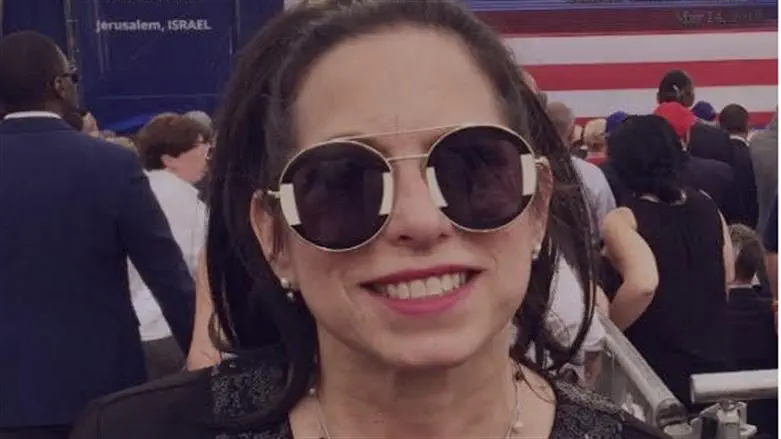 Cindy Grosz
Courtesy
Religious Jewish voters are being asked to vote in churches in New York's Rockland County, which includes New City.
catholic church
istock
Mailers to registered voters specified that their poll site was The St. Augustine Church of New City.
We know that Orthodox Jews follow the rabbinic consensus, based on the Talmud (Avodah Zara 17a,) that it is forbidden to enter a church, even if just to admire the architecture or artwork, attend a friend's wedding or attend a wake.
Why does it seem that both Democrats and Republicans at the New York Board of Elections are trying to diminish the power of the Jewish vote, especially in a year with key primaries in both parties?
Several followers of my writings here reached out to me for help.
It's not the first time Rockland County made headlines regarding anti-Semitism. See here.
The county has the largest Jewish population per capita of any U.S. county, with 31.4%, or 90,000 residents, being Jewish. Yiddish is spoken in 5 percent of Rockland County homes.
Rockland County is represented by progressive Mondaire Jones and a combination of representatives from both parties on more local levels of government.
Why has this issue been ignored by both parties, Jewish leaders and the press?
As many are confused with the ongoing lawsuits regarding the gerrymandering of congressional, state senate and assembly seats and primary dates, is there something that the Rockland County Board of Elections can do to make alternate plans and equal opportunities for Jews to vote?
Many want to vote in person, and on Election Day.
Anti-Semitic Town Meetings And Zoning In Rockland County
In November 2021, County, a Thiells resident's antisemitic and threatening comments at a recent land-use board meeting.
Town Supervisor Howard Phillips called the comments, by the speaker who identified himself as Nick Colella, "disgraceful and hateful remarks regarding the Orthodox community ... we want everyone to know this will not be tolerated."
Remarks related to zoning codes against residential places of worship especially target Orthodox Jews because of their need for walkable distances to synagogues or religious gathering spots on the Shabbat, when they are prohibited from using vehicles to travel.
Who Is To Blame?
Educate yourselves on who is running the Board of Elections. Learn the names of the leaders of all parties, not just the Democratic and Republican Chairman. Both parties have many committee members, county staff members and local elected officials.
Do not financially donate to anyone and any fundraising campaign until this upsetting trend to alienate Jews in Rockland County ends. Jewish Republicans, who donated to President Trump's 2020 presidential campaign are being sought out by local county chairs for their own donation projects. Donations to Donald Trump don't relate to these counties.
Don't be fooled by a social media tweet, a press conference headline written by a paid staff member or even a visit to a synagogue.
Anti-Semitism is a nonpartisan issue that needs bipartisan support.to be fought Legislation needs to cover consequences for bias against Jews. In the Rockland County situations, only Jews are targeted.
And Jews, we have a problem we can fix. We should try our best to say and act appropriately, to live in communities with others so that they don't have the wrong perception of religious Jews in particular.
Long Island's fourth congressional district, home of Oceanside and The Five Towns, similar outbursts at local town meetings and a fire commissioner who made anti-Semitic remarks on socia media have made headlines as well.
Let's get to those in power to change poll locations so ALL feel comfortable to vote with integrity in all campaigns.
Cindy Grosz is the Chair of Jewish Vote GOP. She hosts The Cindy Grosz Show, the first religious Jewish Woman on syndicated radio stations throughout the United States. Her shows can be downloaded through iHeartRadio, Spotify and google podcasts. She ran for Congress in 2020 and was the Jewish Advisor for The National Diversity Coalition for Trump.