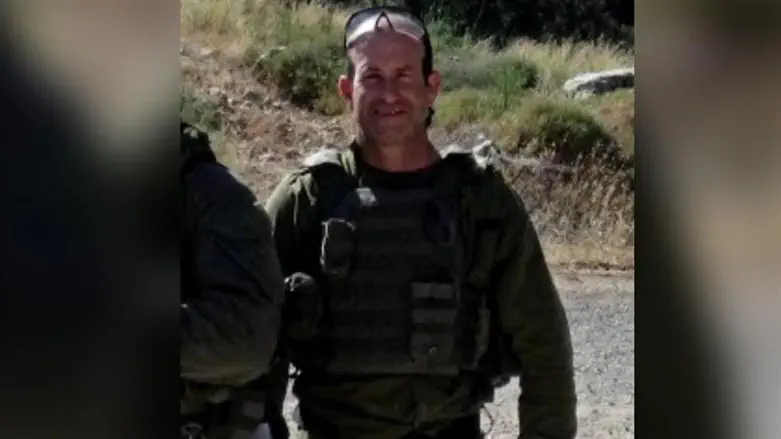 Fallen counterterror officer Noam Raz
Provided by the family
An Israeli police from an elite combat unit in the Border Police was seriously wounded Friday during a counterterrorism operation in northern Samaria, authorities revealed Friday afternoon.
The officer, a member of the Border Police's Yamam unit, was wounded after Arab terrorists opened fire on Israeli forces operating in Jenin Friday morning. The officer was airlifted to Rambam Medical Center in Haifa for treatment, and is listed in serious but stable condition.
IDF soldiers, Israel Security Agency (Shin Bet) officers, and Border Police officers took part in a series of raids Friday, part of a joint counterterrorism operation in Judea and Samaria aimed at rounding up wanted terror suspects.
Two wanted terrorists were arrested in Jenin, following a lengthy standoff in the Palestinian Authority-controlled city. For hours, the two terrorists barricaded themselves inside a building, trading gunfire with Israeli forces, who fired an anti-tank missile at the building to force the terrorists out.
Jenin has become the primary flashpoint in clashes between Israel and Palestinian terrorists over the past few months, with a string of terror attacks carried out by terrorists from Jenin, spurring Israeli counterterrorism operations in the city and surrounding area.
The officer died of his wounds later in the day. the Border Police stated: "The Border Police bow their heads in memory of the late Major Noam Raz, who fell this morning during a battle with armed terrorists who fired at our forces during an operation in the village of Burkin in the Jenin area."
"During a shootout with armed terrorists, Maj. Gen. Noam Raz was seriously injured and evacuated by helicopter to Rambam Hospital and was pronounced dead."
"The late Sergeant Noam Raz, 47, a resident of Kida, enlisted in 1999 and served for about 23 years in the unit as a fighter, paramedic, breacher, and sniper. He is survived by his wife and 6 children."
" Noam participated in hundreds of counterterrorism operations, undertaking great personal danger, and saved lives. He was brave, professional, and a humble officer."
Commander of the Border Police, Superintendent Amir Cohen, commented: "He was a veteran and experienced fighter from the best of our sons, a humble man who during his service participated in countless complex and sensitive operations and activities aimed at thwarting terrorism. This heroic warrior who fell bore upon his soul complex and sensitive activity during which lowly terrorists opened fire at our warriors. Our forces are the defensive wall of the citizens of the State of Israel in its stubborn war against terrorism. We embrace and share in the grief of the family of this heroic warrior who gave his life for the security of the citizens of the State of Israel."
"The family asks that the public respect their privacy and not visit their home at this difficult time. May his memory be a blessing."
A senior officer who spoke to military correspondents commented "I insisted that we continue the operation, despite thousands of rounds fired at us because we knew the fugitives were in the house we had surrounded. I have never seen that kind of gunfire." The officer claims that Noam was killed by a single shot to the back during the extraction process after the operation was complete.