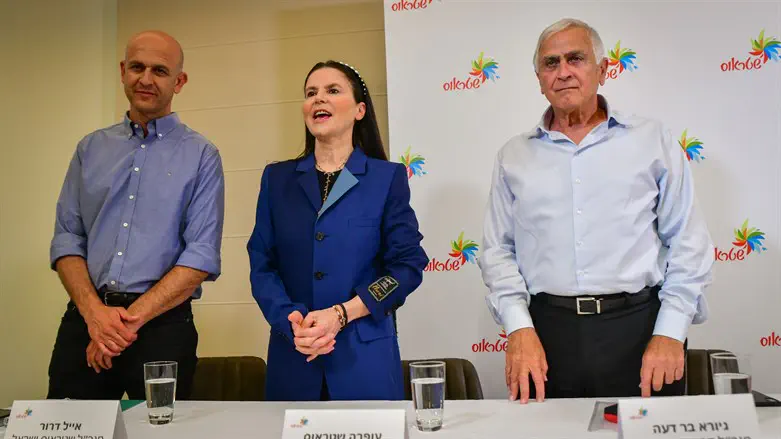 Ofra Strauss with Bardea and Dror
Avshalom Sassoni/Flash90
The chairperson of the Strauss Group, Ofra Strauss, responded Thursday for the first time to the mass recall of the company's products after the suspicion that some of them were infected with salmonella.
In a live statement, Strauss said: "I am here to speak on behalf of the company in a clear voice. We look into the eyes of all citizens of the country, everyone who has been harmed - I apologize for disappointing you. I apologize for the heartache you are going through because of us."
According to her, the company is working to correct all the defects. "We will do everything not to disappoint you. The mishap in the candy factory is severe and we promise that we will return the products as soon as possible, but only after we have repaired everything that requires care. Food safety will not be compromised."
Strauss Israel CEO Eyal Dror added: "There are some not-so-simple deficiencies, and we have exposed them to the Ministry of Health. In the weeks before the discovery, we had a renovation that was not to our standards and about a month ago we had pigeons in the chocolate factory."
"We did not act correctly. We will do everything necessary to get the license back," Dror said.
Strauss Group CEO Giora Bardea added: "There was a kind of failure of process and we are trying to decipher how it happened. We are working in collaboration with the Ministry of Health to understand the problem."
Earlier, the director general of the Ministry of Health, Prof. Nachman Ash, announced that the license of the Strauss plant in the Galilee would be frozen for three months - and the company would not be able to manufacture and market its products until it was restored. "After we make sure that the lessons learned have been completed, all the processes have been completed and we can be sure that not only is the line free of contamination, but there will be no contamination later on."