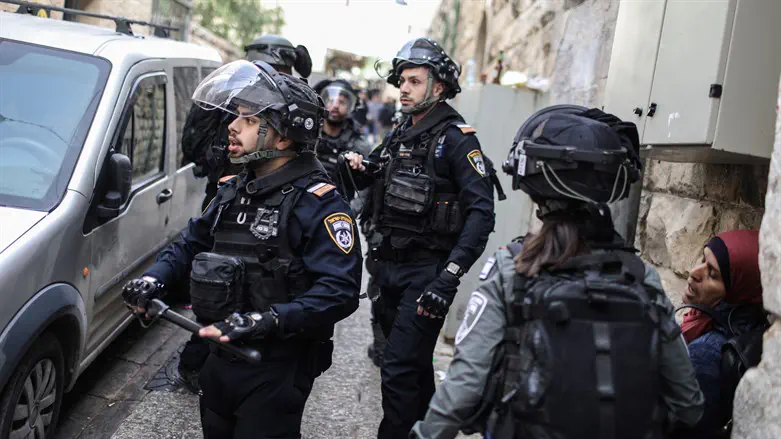 Disturbances in the Old City
Reuters
The Muslim celebration of Qadr Night, marking the moment the Quran supposedly came down from Heaven, was accompanied by heightened police presence and preparedness level in the Old City of Jerusalem last night.
Following the morning prayer at the al-Aqsa mosque, police dispersed several dozen rioters on their way out of the compound, arresting one, with additional detentions expected to be announced in the coming hours.
Worshippers at the scene also attempted to quell the disturbance, preventing rioters from causing further damage before police arrived.
Police released a statement, saying they would, "continue to allow freedom of worship while taking measures against the rioters and lawbreakers harming the multitude of worshippers at the holy site."
The Temple Mount was closed to Jewish visitors "until further notice," this Tuesday, following a fresh round of clashes between Israeli police and Arab rioters.
The move is expected to last through the end of Ramadan, but according to the Jerusalem Post, language used by the Temple Mount Administration suggests it could last longer. The Administration — separate from the Waqf, the Muslim authority that controls the site — is a joint steering committee of Jewish Temple Mount activists and Israeli police.
The Temple Mount is open to Muslim worshippers — and technically closed to Jewish worshippers — under a complex security agreement reached in 1967, when the site was liberated by Israeli forces in the closing days of the Six-Day War. In recent years, Israeli authorities have allowed some Jews to pray at the mount — the historic site of the two destroyed Holy Temples — sparking international condemnation over what many call a rupture in the area's "status quo."
More than 50 Arab rioters were injured in clashes with police at the site on Friday, April 22, in a pattern that has played out throughout the Ramadan holiday this year as well as last. Israeli police said they intervened after the worshippers began to throw rocks and fireworks.
"Israel, the occupying power, must respect the historical and legal status quo in Jerusalem and its sacred [sites], and stop all restrictive measures," Jordan's foreign ministry said at the time.
On April 17, police entered the Temple Mount following an attempt by Arabs to disrupt public order and prevent Jewish visits to the site.
Forces were deployed throughout the plaza to keep the peace and allow Jews to visit the site after police noticed hundreds of young Arabs collecting stones in the area.
On the same day, Egged buses were pelted with stones on their way to the Western Wall. No injuries were reported and Police and two Arabs were detained on suspicion of partaking in the attack.