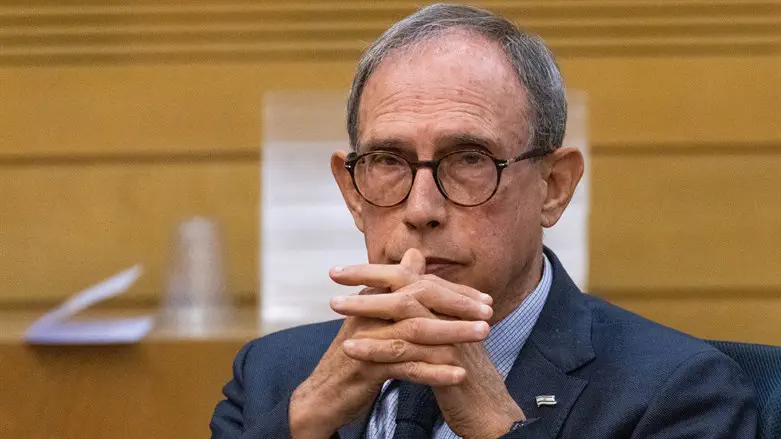 Nachman Shai
Yonatan Sindel/Flash90
Commenting on the coalition crisis engendered by the resignation of MK Idit Silman from the government as well as the decision of the Ra'am party to suspend its cooperation with its coalition partners, Diaspora Affairs Minister Nachman Shai expressed a measure of understanding for Ra'am party members.
"With all due respect to Ra'am, we don't make compromises when it comes to Israel's security," Shai told Channel 12. "That said, we're not fools, and we do realize that we have a very narrow coalition and that we have to take Ra'am into account to a degree. Ra'am made a logical move in deciding to suspend cooperation with the coalition for a period of time."
Alluding to comments made last week by coalition member Yair Golan (Meretz), who said that the coalition was "proud" to be taking Ra'am's sensibilities into account, Shai insisted that, "To the best of my knowledge, Golan does not represent the government on this. Security must be our primary concern, but alongside that, the coalition has to endure, and that's what we intend to do - we're not about to give up and go home."
Shai dismissed criticisms from the opposition that the government could be handling the current wave of violence better. "They have no better ideas regarding what to do in Gaza, in Judea and Samaria, or on the Temple Mount," he insisted. "Just a year ago we all saw their failures and where they led to - now they come and tell us that we need to use a heavy hand but that's just nonsense. They didn't handle things any better than we are doing now. We are acting cautiously and responsibly," he added.
"We don't have a vested interest in entering Gaza every single year like we did last summer," Shai continued. "That campaign caused massive destruction and a large number of casualties, including civilians. Don't forget that we have to take the wider picture into account - our Arab neighbors, for example, and also Washington, which is making it quite clear that we should proceed with caution, which is what we're doing.
"At the same time, we cannot reduce our level of readiness, even as we look for ways to dialogue," he added. "We can continue to pressure the Palestinians and discourage Arab-Israelis from getting involved in terrorism. We are reinforcing the seamline, Judea and Samaria, around Gaza - and this occupies dozens of brigades and prevents the IDF from returning to training. Meanwhile, the police force is growing, as is the Border Police. The security budget has increased, even if people aren't aware of it."
In conclusion, however, Shai admitted that if all his government's efforts to calm the waters failed, harsher policies will have to be pursued. "If Hamas continues to attack or allow other organizations to do so, it will find itself on the receiving end of a much harsher response from the IDF," Shai said. "We can't let Hamas have the final word - we have to be the ones calling the shots."