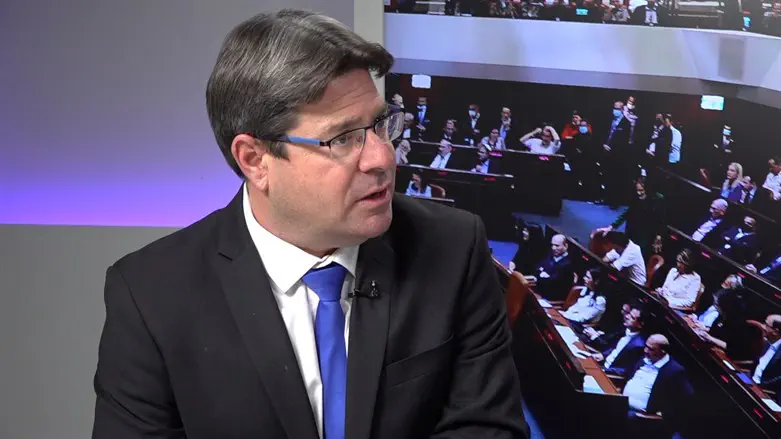 MK Ofir Akunis
Israel National News
MK Ofir Akunis (Likud) claimed on Saturday night that there are "informal" negotiations between Interior Minister Ayelet Shaked and Likud officials, ahead of the possibility of a defection from the coalition.
Akunis told Kan 11 in an interview that "[Shaked's] people are talking to very senior Likud members. There is always a kind of informal negotiation between Ayelet Shaked and the Likud. Ayelet has to make a decision."
Last Thursday, Prime Minister Naftali Bennett refused to answer the question of whether Ayelet Shaked had promised not to resign from the coalition.
In an interview with Galei Tzahal (IDF Radio), Bennett said that "elections are a disaster for the state, I am not dealing with this thing - but with what is good for the State of Israel. So far I have invested 100% of my time in this, now I have to engage in politics every day to do it."
A report earlier this month said that Shaked has vowed not to bolt the government, even after fellow Yamina faction member and coalition chairwoman Idit Silman announced plans to defect to the opposition, depriving the government of its majority in the Knesset.
In private conversations with confidants, Shaked was quoted as saying that she will not be following in Silman's footsteps, and that she will not take any action that could force early elections.
Meanwhile, Israel Hayom reported on Saturday night that opposition leader Benjamin Netanyahu estimates that there is a high probability that in the coming week, another MK from the coalition will announce the decision to leave it.
Israel Hayom was informed that Netanyahu made his statements in the past few days, while speaking to a few of those close to him in closed conversations.
According to the report, the opposition is focusing its efforts on ensuring that the announcement will be made this week, before the Knesset Committee meets to discuss whether to declare MK Amichai Chikli a defector from the Yamina party.