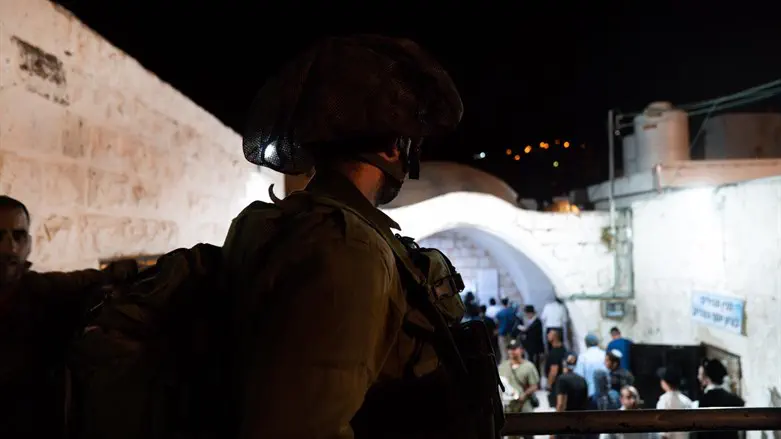 חייל מאבטח מתפללים בקבר יוסף
צילום: דובר צה"ל
About a hundred Palestinian Arab rioters entered Joseph's Tomb overnight, smashed the tombstone marking the grave of the Biblical figure, and set multiple fires at the site.
Arab rioters had previously caused extensive arson damage to the site in 2015, after which the Samaria Regional Council sent its own teams to restore and renovate the holy site.
Samaria Regional Council chairman Yossi Dagan has been in contact since last night with military and civilian officials to work to repair the destruction.
"This is an act that no Jew should not be shocked by, destroying one of the holy places for the Jewish people just before Passover. This is happening only because the State of Israel has abandoned one of the holy places for the Jewish people 'for the preservation' of the Palestinian Authority," Dagan responded.
He said, "We demand the immediate return of the IDF to Joseph's and also the Yeshivat Od Yosef Chai. The people of Israel in their sovereign state must maintain their sanctity. The deed done tonight must be condemned by every member of the culture. This is a damage not only to the property of the Jewish people, but a damage to a historic site that is thousands of years old."
"Once again the barbarians from the Palestinian Authority show their true face: the same as ISIS. The Palestinian Authority is unreliable at best and causes terrorism all over the country and the barbarism at Joseph's Tomb as we now see once again," he concluded.