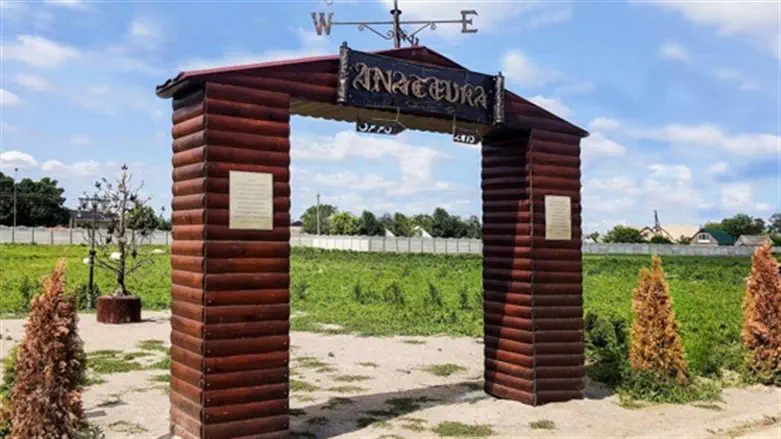 entrance to Anatevka
Israel National News
The Jewish community of Kyiv marked Shabbat under the shadow war with Russia over the weekend.
Thousands of them have barricaded themselves in recent days in the Chabad-run refugee village of Anatevka, near Kyiv, where they spent Shabbat against the background of the sound of continuous explosions.
There are now thousands of Jews, men, women and children in the village who came from Kyiv and the surrounding area in light of the declaration of Ukraine Chief Rabbi Moshe Azman that every Jew is welcome to come to Anatevka, where they will receive full accommodation, food and other necessities as needed.
Rabbi Shmuel Azman, son of Chief Rabbi Azman, says: "We are now in Anatevka. This is a refugee village inhabited by thousands of Jews who fled Kyiv and the surrounding area. There are elderly Jews, men and women and many children."
"We are close to Kyiv, but here the Jews are more protected. We give everyone who comes a place to stay, food, drink and other necessities. More and more Jews are coming all the time," he notes.
"This Shabbat was not easy at all. At the moment, we are not allowed to turn on lights and the road to the bunker is not lit [due to the curfew imposed on Kyiv]. Everything here is dark because there are a lot of alerts that there are going to be a lot of explosions during the night. On Friday night, there were a lot of loud explosions. we put cellophane tape on all the windows so that the windows would not shatter because of the explosions," Rabbi Azman adds.
He says, "During Shabbat, a lot of people came here. There is a lot of panic here. Twice they tried to get out of here - towards the border, some returned - some, thank G-d, got out, we just pray for good because the situation is really not simple at all. More Jews come here every hour We need your urgent help. The situation here is getting worse. We need more food and bread to feed the thousands of frightened Jews. Give us a hand at this difficult time."
HELP THE JEWISH COMMUNITY IN UKRAINE