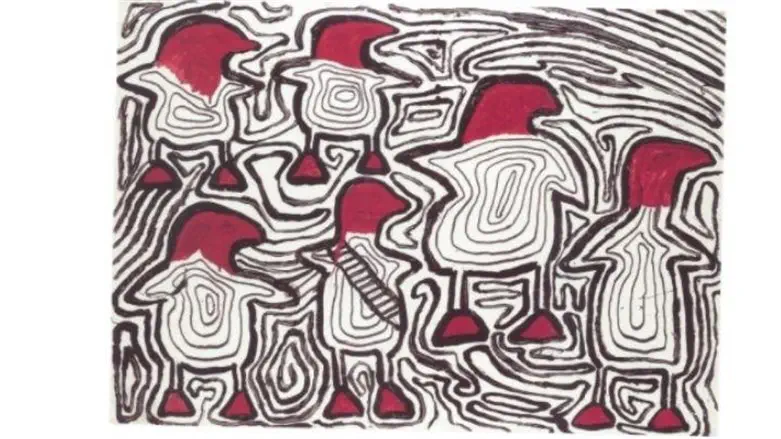 David Reeb, Penguins, Year: 1978
Courtesy of the Levin Collection
In collaboration with Ofer Levin Austria
It rarely happens that an artistic turmoil causes political mayhem and ends up entering the news lineup in Israel.
But that's exactly what happened with David Reeb's "Jerusalem" that was about to be displayed at "The Institution", the opening exhibition of the Ramat Gan Museum of Israeli Art.
The mayor of Ramat Gan, Carmel Shama-Hacohen, who opposed the exhibition of the painting (which included the provocative juxtaposition of the phrase "Jerusalem of Gold" with "Jerusalem of Shit"), published a post against the work and asked his residents to decide whether it ought to be removed.
The die was cast and Reeb's painting was indeed removed. As a result, the artist appealed to the courts, and fellow artists covered their works as an act of protest.
At the end of a failed arbitration between the artists and the institution's management, it was decided to shut down the museum.
The final grating chord arrived two days later when Svetlana Reingold, the museum's chief curator, resigned.
Bezalel student rebellion
Enthusiasts of Israeli art were most likely not surprised that David Reeb's name appeared once again in the context of a political turmoil. Reeb became known to Israeli consciousness during the student protests in Bezalel, long before he was known as an important Israeli artist.
The 1977 protest, spearheaded by the class of 75'-76', wanted to make Bezalel a school of free arts, with students involved in the Institute's decisions. After their demands were not met, a long strike broke out that disrupted studies for months.
Acts of vandalism were committed, including painting the Art Department's offices in black, overtaking management offices, etc. Among the names that stood out as leaders of the rebellion were: Arnon ben David, Yoram Kupermintz, David Wakstein, Reuven Zahavi, Yoni Shor and David Reeb.
A few years later, Reeb was discovered as a highly involved painter on the Israeli-Palestinian conflict.
David Reeb's Artistic Style
Gideon Ofrat, culture and art critique, who was teaching at Bezalel Academy at the time of Reeb's studies there, recalls one of the earliest paintings he bought from Reeb and is currently part of the Levin Collection: "During David Reeb's last year of studies at the Department of Fine Arts at Bezalel, I bought a painting from him named 'Penguins'.
It was clear to me, as to the other faculty members, that he was a uniquely talented artist whose voice would be heard. Reeb spearheaded the student rebellion in the Art Department at the time.
Antagonism, violence, and anti-establishment politics characterized many of the works created by the 'rebels', some of them 'alumni' of the Yom Kippur War (1973).
Reeb's work at the time often depicted animals. These, however, were no pets; they were 'allegories of evil, metaphors of relations between the strong and the weak' as coined by Ellen Ginton.
When Reeb presented his first exhibition at Printers Gallery in Jerusalem in 1979, the primitivist-decorative patterns in high-gloss paint on paper, such as those in 'Penguins', already stood out.
Whether animals or geometrical configurations, the images recurred densely and monotonously all over the sheet, painted directly, bluntly, with speed verging on nervousness."
A later artistic development linked Reeb even more closely with artistic trends in New York. Ofrat explains: "David Reeb resided a few years in New York (1979-1981) and was influenced by New York painting, the tradition of Pop Art, and the blatant brush of graffiti artist Keith Haring.
Reeb harnessed his figurative painting for political criticism. For example, 'CAMEL/TIME' one of Reeb's best-known paintings, contains criticism of American capitalism and its imperialist predation.
He uses the logos of two big cigarette brands, TIME and Camel, to construct an iconic dialogue between East (Third World) and West (USA) as well as a cultural reversal (an Anglo-Saxon Israel and an oriental America).
Camel's camel is striding slowly in a camel caravan from right to left, while the word 'Time' speeds across, from left to right as if it were a neon sign in New York's Times Square.
A different perception of time, a different rhythm, a different technology, antithetical worlds now united under the globalist, capitalistic boot which markets its commodities. Reeb opted for the complementary colors of yellow and blue to model a decorative composition in the spirit of neo-Pop.
The mass print images are rendered with a 'rough' brush which avoids beautification and a graphic finish. It is a subversive painting which ostensibly fits in with market forces, only to launch an acerbic attack."
David Reeb, Camel / Time, Year: 1989
Courtesy of the Levin Collection
"An important and unique voice"
For Ofer Levin Investments, financial strategist and well-known art collector, Reeb is an important artist with a unique voice: "David Reeb is no doubt deeply involved in Israeli politics and society. It is true that a majority of his paintings are dedicated to figurative, somewhat crude, post-photographic renditions of Palestinian resistance juxtaposed with life in Tel Aviv.
In the Levin Collection, for example, there is in addition to 'Penguins' and 'CAMEL/TIME' a work called 'Bombed Kibbutz' composed of 16 paintings in which Reeb intends to cause viewers to reflect on the 'the Israeli condition' and on propaganda.
Alongside these, Reeb was also involved in completely different projects, such as the commissioned work with a Vodka Absolut motif that he created at the beginning of the 90' for the Kerem' Company, importer of the renowned alcohol brand, together with other prominent artists such as Pinchas Cohen-Gan, Drora Dominey, Yair Garbuz, Lea Nikel, Joshua Griffit, Raffi Lavie, Asad Azi, Menashe Kadishman, Meir Pichhadze, Uri Lifschitz and Avner Katz.
If you are able to filter out all the background noises you will find that Reeb was, and still is, an important and unique voice in Israeli art."