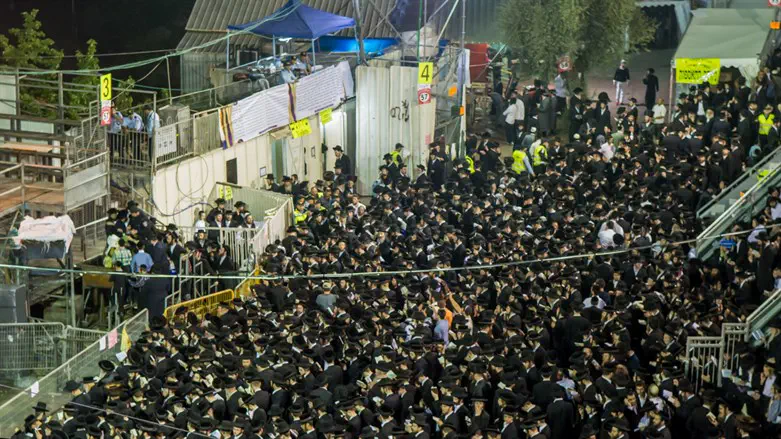 Lag Ba'omer in Meron
Photo by Basel Awidat/Flash90
In the shadow of the Lag Ba'omer tragedy last year, and with this year's Lag Ba'omer holiday less than four months away, the plan for the celebrations on Mount Meron, at the site of Rabbi Shimon Bar Yochai's (Rashbi) gravesite, is starting to take shape.
According to Israel Hayom, professionals estimate that just 20,000 people will be allowed at the site at once - significantly less than the half-million pilgrims who visited in the past several years. Since the event is 24 hours long, approximately 100,000 people will be able to enter the site in total.
On Sunday, Major General (ret.) Zvika Tesler, the project manager for the event, presented the main details of the plan to Religious Affairs Minister Matan Kahana (Yamina) and directors general of the various involved ministries.
In the meantime, the illegal and dangerous buildings at the site are being removed, and shaded areas for both men and women are being set up. There will also be dedicated areas where the traditional first haircut parties can be held.
Only public transportation will be allowed at the site, and tickets allowing participation during set hours will be sold ahead of the event. Charged with the fulfillment of this are both the Transportation Ministry and Israel Police, and according to the Religious Affairs Ministry, unlike in previous years, there will be no VIP attendees and private vehicles will not be permitted to enter the site.
Israel Hayom was also told that the event will have strict safety rules, but that the plan is relatively forgiving, in comparison to the other proposals suggested.
Representatives of the various hasidic sects, which include Toldot Aharon, Boyan, Karlin, and others, were told, "The Lag Ba'omer event in 2022 will take place in a manner which will allow the general public to arrive at Rashbi's tomb in Meron and pray in an organized and safe fashion. The understanding with the hasidic sects is that there is a need to balance holding the event with the sanctity of life, and ensure the safety and security of the worshipers."
This week, Tesler is expected to complete a series of meetings with the various hasidic sects, and he will give them the main details of the plan which is taking shape.
"I embarked on a holy project to organize the event and ensure that it takes place in the best and safest way possible," Tesler explained Sunday to the staff of directors general. "In accordance with the policy of the Religious Affairs Minister, I am holding a discourse which is based on talking with the haredi community, with the purpose of holding the event and ensuring that the haredi community arrives at the mountain on Lag Ba'omer."