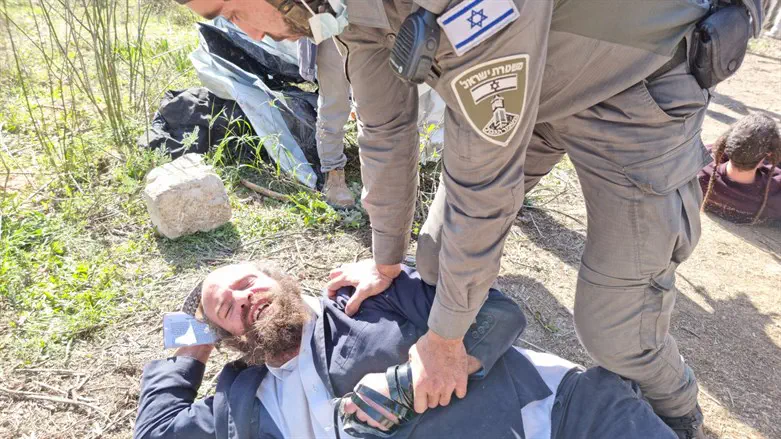 Clashes in Homesh Monday afternoon
Homesh Yeshiva
Clashes broke out between Israeli authorities and yeshiva students at an outpost community in northern Samaria Monday afternoon.
Civil Administration officials arrived at the Homesh outpost in northern Samaria – built at the site of the former Israeli town of the same name, which was evacuated in the 2005 Disengagement Plan - and began confiscating equipment owned by the Homesh Yeshiva.
Witnesses report that clashes quickly broke out between yeshiva students and Border Police officers who were deployed at the scene to secure the Civil Administration operation.
Locals say police officers used excessive force during the operation, lashing out violently at students.
"The government is behaving like a pyromaniac in order to intentionally light up the entire area," said Samaria Regional Council chief Yossi Dagan.
"We're seeing here, again, images straight out of the expulsion and the Disengagement. They're sending our brothers the soldiers to carry out police activities with extreme violence. I call on Bennett: Come to your senses, stop this destructive process that has operated since the murder," Dagan continued, referencing the deadly terror attack last month which claimed the life of a student from the Homesh Yeshiva.
On Sunday, hundreds of right-wing demonstrators gathered outside of the Prime Minister's Residence, calling on the government not to evacuate the Homesh Yeshiva and adjoining outpost.