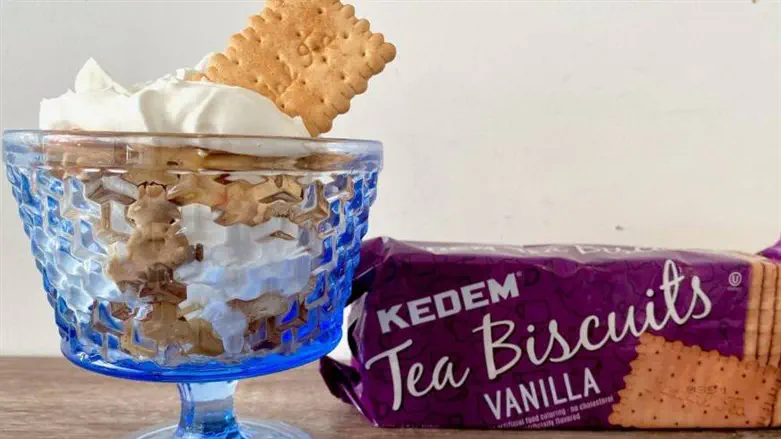 Bourbon Apple Spiced Trifle
Jessica Beren / Kosher.com
Ingredients:
Crumbs
1 package Kedem Tea Biscuits
1 teaspoon brown sugar
1/2 teaspoon nutmeg
1/2 teaspoon cinnamon
Apples
3 Roma apples
1 tablespoon Earth Balance (or margarine)
1 teaspoon dark brown sugar
1/4 teaspoon cinnamon
1/4 teaspoon of nutmeg
1/4 cup Boondocks or other bourbon
Whipped Cream
12 ounces heavy whipping cream or non-dairy whipped topping
2 teaspoons Gefen Vanilla Extract
3 tablespoons Boondocks or other bourbon (optional)
Prepare the Bourbon Apple Spiced Trifle
In a plastic bag, put tea biscuits, brown sugar, nutmeg, and cinnamon. Lightly bang it with a hammer, back of a knife, or a pot. The consistency you are looking for is chunks, not powder.
Peel, core, and thinly slice apples. In a large sauté pan, over medium heat, add margarine, then add the sliced apples, dark brown sugar, cinnamon, and nutmeg. Let this cook down for five minutes. Add bourbon and slightly tilt the pan and flambé the apples until the alcohol cooks down, about one to two minutes. Set aside to cool.
In a mixer bowl, add whipping cream and beat until it starts forming stiff peaks. Add vanilla extract and bourbon, if using.
To assemble, in your dessert cups, layer bourbon apple filling, then crumbs, then whipped cream, repeating until the cups are filled.
Sponsored by Kedem