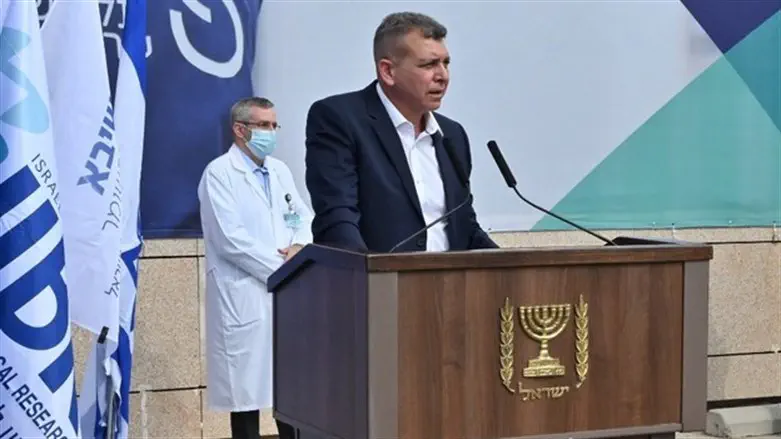 Moshe Edri
Ariel Hermoni, Defense Ministry
Prime Minister Naftali Bennett decided on Wednesday to appoint Brig.-Gen. (ret.) Moshe Edri as Chairman of the Atomic Energy Commission.
According to a spokesman for the prime minister, "Edri (59) holds a bachelor's degree in Middle Eastern and African studies from the University of Haifa and a master's degree in public policy from Bar Ilan University. He currently serves as the Director of Special Means and as the Director for Civil Defense at the Ministry of Defense."
"In the latter position, he has been responsible – in recent months – for coordinating and leading the effort to deal with the coronavirus on a national level. As such he integrates the activity of all professional elements in various aspects including coordinating operative efforts and processes in plans for the economy, budgetary issues acquisitions, implementing directives from the political echelon, etc.
"During his 31 years' service in the IDF, Brig.-Gen. Edri served in various senior positions including commander of the Air Force combat rescue and evacuation unit, commander of Air Force special forces, commander of an air force base and head of the General Staff Special Means Brigade.
"Upon his discharge from the IDF in 2011 with the rank of brigadier-general, Edri served for 3.5 years as a senior official with the Atomic Energy Commission. He assumed his current positions in the Defense Ministry in 2015.
"In light of his many years of experience, his achievements and his deep understanding of the security and regional challenges facing the State of Israel, Prime Minister Naftali Bennett has decided to appoint him as Chairman of the Atomic Energy Commission.
"The appointment will take effect in July 2022 following completion of the transition process, the approval of the Civil Service Commission appointments committee and approval by the government."