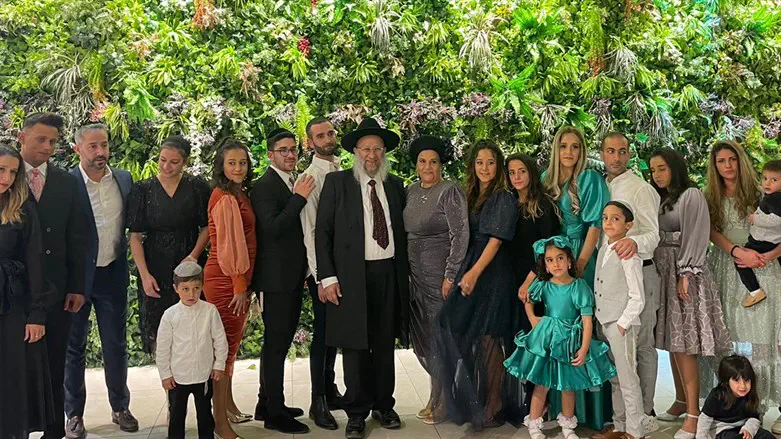 ראש הישיבה (במרכז) ומשפחתו
צילום: באדיבות המשפחה
My name is Hedva Vaknin, and I open my heart to you, begging you to help me
My wedding is planned for another two weeks but the situation at home is very difficult and I have nothing, not even the minimum.
My father, an important Rosh Yeshiva, until a few months ago he supported our family with dignity until unfortunately he had a heart attack and his condition is constantly deteriorating. He is now in a critical condition, in danger of death, and is in the middle of a series of heart surgeries and treatments that doctors are doing to try to save his life.
I have 12 siblings, without the evil eye, and home life has become very difficult. We are literally on the verge of collapse from stress and anxiety.
Until the collapse of my dear father my mother worked a respectable job and together with Dad she would bring home an income befitting a large family, but now, all that has changed and we find ourselves completely on the opposite end, in debts with no source of income.
Now in the current circumstances, the reality of my wedding only increases the tension and stress that already exists in the home.
My mother must be fully available to help my dad in the hospital the bills are piled up and we have no way to pay for the medical treatments, medications or daily maintenance of our house, so on the wedding expenses there is nothing at all to think about where to take.
I can not even discuss the matter with my parents, because any additional stress will hurt Dad's condition which is difficult anyway.
I beg you, please open your heart and you will win and help me build a holy house and raise a family from the depths of despair for health and happiness.
The medical documents attesting to my father's condition are here for you to see.
Thank you very much for your help. May the name pay you your kindness with joy, good health and happiness. Amen.
Tizku L'mitzvot.