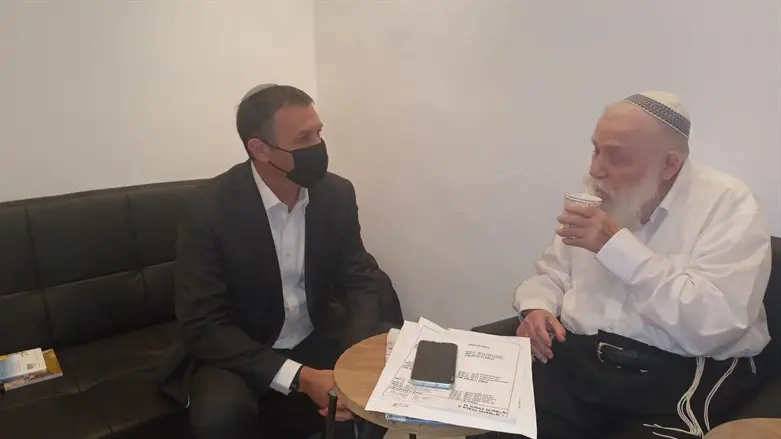 Matan Kahana and Rabbi Druckman
Courtesy
For Part One of this discussion, please see here.
PART TWO: Even Worse — How the Blight of "Open Orthodoxy" and Kindred Anti-Halakhic Pseudo-Religious Expressions Will Turn Matan Kahana's Conversion "Reforms" into a Virtual "Tire Fire."
Yamina MK Matan Kahana, in his capacity as Israel's Minister of Religious Services, has proposed a series of conversion "reforms" that would remove central conversion authority from Israel's Chief Rabbinate and transfer its historic institutional role to decentralized bodies. Under the immutable Law of Unanticipated Consequences, it well must be feared that unprecedented opportunities thus will arise, amid a gaping vacuum of rabbinic authority, for Reform rabbis to become inveigled with conversions in Israel.
As was demonstrated in Part One, it is an immutable law of life that dramatic changes in public policy almost always lead to the worst of never-expected results. Here the concern of Reform inroads in Israeli conversions is not the worst of it. "Open Orthodoxy" thankfully has failed in the United States — thank G-d — to extend its impact in the twenty years since the Chovevei Torah Academy was founded in 1999. However, even so, they still raise millions of dollars from non-Orthodox and anti-Orthodox sources who are only too glad to pump those millions into diluting the authentically Orthodox Jewish community of America.
However, never have so few been so remarkably funded. The Jim Joseph Foundation of San Francisco sends the Chovevei Torah Academy $3 million for a seminary with maybe 14 students. That's $214,285.71 per student. (Maharat Academy — the "Open Orthodox" sister branch of Chovevei Torah Academy, created alongside Chovevei to ordain Women Rabbis — obtains similar numbers in the millions.) Therefore, although they have few students and few serious rabbinic job opportunities awaiting their graduates, they do have the money for a heavy-duty public relations apparatus to create the mirage of something bigger than what they are. See, e.g., "TASC Group Wins Three Big Apple Awards and Two Honorable Mentions from the Public Relations Society of America New York Chapter": [1]
One of the TASC group campaigns is to push for Female Rabbis in Orthodox communitiesSee here and also foonote here [2]
The first organization to ordain women to become Rabbis (Rabbas) in the Orthodox Jewish community,
Yeshivat Maharat made it a mission to educate women in Jewish law and pastoral counseling and ready them to lead Orthodox communities.

However, the Orthodox Union—the body that manages rabbinic law—was contemplating a rule to reinforce the longtime practice of precluding women from serving as Rabbas (which it has since issued), even though several had already been ordained and were performing their duties in synagogues and shuls around the country.
Why is this relevant? Because the halakhic world as it exists, where Poskim (renowned and universally accepted Orthodox rabbinic authorities) arbitrate and rule based on Tanakh (Bible) and Talmud and Rishonim and Acharonim (rabbinic authorities of past and more recent centuries, leading up to modern times) and shu"tim (published rabbinic responsa) and mesorah (tradition), has been subject to an onslaught by non-Orthodox and anti-Orthodox denominations.
The mainstream normative halakhic world is attacked brutally in the secular and Jewish media, with well-funded hard-nosed Madison Avenue public-relations pressure campaigns leading the way.
Beyond that, consider the heightened absurdity that a final Knesset vote on Kahana's proposed giyur "reforms" for defining Jewish conversion law can turn on how Mansour Abbas's Arab Muslim Ra'm party, with its ties to the Muslim Brotherhood, ultimately instructs their four MKs — Abbas, Mazin Ghnaim, Walid Taha, and Said al-Harumi — to vote on regulating conversion to Judaism.
Alongside that absurdity, there is that massive bounty of millions of dollars from non-Orthodox and anti-Orthodox American foundations to fuel the public-relations high-pressure campaigns driven by the non-Orthodox "Open Orthodox" denomination's two academies, Maharat Academy and Chovevei Torah Academy. Both institutions are based geographically and spiritually at the Hebrew Institute of Riverdale in the Bronx, so they are not in jeopardy of being evicted for missing a rent payment.
Let us endeavor to set this forth gingerly:
E Multis Tribus: Out of many whom I unfortunately can identify, I limit to three whom I will reference as:
1. "Open Orthodox Rabbi Who Says He Is an Orthodox Rabbi but Is Not: #1"
2. "Open Orthodox Rabbi Who Says He Is an Orthodox Rabbi but Is Not: #2"
3. "Open Orthodox Rabbi Who Says He Is an Orthodox Rabbi but Is Not: #3"
Their names are irrelevant for this discussion. I do embed more information for those inclined to read more about the three "Open Orthodox rabbis" I reference, but there are a score or two score more, at least. They are just examples.
Consider these three who denominate themselves as "Orthodox Rabbis" in all their published writings and social media posts — ordained by the likes of Chovevei Torah Academy and the ordination seminary of Danny Landes in Israel. Consider if any or all ever were to go on aliyah, and if any or all of these three were to submit their names or have their names submitted by advocates, backed by powerhouse public-relations pressure mills, to be accepted as dayyanim (convesion judges) on batei din l'giyur (rabbinic conversion courts) in Israel.
Yes, today that may be inconceivable — just as so many other unintended consequences, like those listed above, once were inconceivable. Yet, even now, they claim in all their social media posts and published articles to be "Orthodox rabbis," and they easily get themselves so denominated by eagerly cooperative anti-Orthodox Jewish "news" media like Forward, JTA, Times of Israel, the Jewish Journal, and even the op-ed page of the New York Times. Indeed, in that last one, although no one even asked him, the "Orthodox rabbi" writer shared TMI (Too Much Information) — and yet, having opened a door no one sought to be ajar, did not disclose enough: "[M]y mother is Christian. I converted — twice. After learning the traditional significance placed on matrilineal lineage, I underwent a liberal conversion as an adolescent. Later I underwent a rigorous Orthodox conversion."
To this day, he has not disclosed with equal candor who exactly comprised the "rigorous" conversion panel.
If the central dominant giyur authority of the Israeli Chief Rabbinate is attenuated, and Matan Kahana's "reforms" are adopted — and inasmuch as Bagat"z always lurks in the background ready to jump in with a maximally liberal ultravires interpretation of every legislative enactment touching on religion —what protects the Jewish people and prevents these renegades and apostates from getting named as giyur dayyanim (conversion judges) in the future? And even if not these three, then three others like them — or thirty — from similar theological ordination cesspools outside Torah legitimacy? Honestly. No one can assure that will not happen. Once Israel's Supreme Court gets involved some day and rules that "if they say they are Orthodox rabbis, and if they have a piece of paper that says so, then they are" — then what does Minister Kahana say? "Oooops"?
Today in America there are two Jewish communities — not so much a transitory political divide between liberals and conservatives, nor between and among denominations. Rather, a much deeper existential divide:
Today some 40 percent of people in America who identify as "Jewish" are absolutely not Jewish. This is not about saying that George Soros or Bernie Sanders or Ben & Jerry are not Jewish; they are.
It is saying that the rabbi of Central Synagogue of Manhattan — one of America's most famous reform temples — is not Jewish, as are so many other reform rabbis born of non-Jewish mothers and never converted properly.
It is about the reform laity whom Rick Jacobs, president of Union for Reform Judaism, openly boasts is comprised in themajority of intermarrieds.
No Rabbinical Council of America (RCA) member would conduct a marriage for anyone among that 40 percent, nor would allow a bar/bat mitzvah in his shul for any child of that demographic, nor would allow any of that non-Jewish group to be buried in his Orthodox shul's cemetery.
All Modern Orthodox rabbonim in America — not "just the Haredim" — now conduct extensive lineage investigations when unaffiliated newcomers arrive after internet searching to get married Orthodox or to get their kids bar mitzva'd Orthodox or their parents buried. We are discreet, sensitive, gentle, compassionate. We want to serve their needs. That is why we chose our field of Judaic public service. But none of us any longer assumes an unknown newcomer is Jewish until we first subtly probe.
The situation is awful. We not only hone the skills of Torah scholars, therapists, public speakers, writers, listeners, first responders, medical-network referral servicers, fundraisers, mentors, and even musical and culinary experts providing guidance for first-time kiddush sponsors or DIY marrying couples — but we now also must be Sherlock Holmes, Charlie Chan, and Hercule Poirot as we search for esoteric clues to validate claimed Jewish maternal lineages.
If the day comes, G-d forbid, when the Israeli Chief Rabbinate loses its authority over giyur to a Knesset-conceived "regulatory reform," we will see the reversal of the situation we always have known by which it has been the halakhic authorities of Israel who have suspected and inspected American Jewish converts coming on aliyah.
Instead, our own American conversion courts (batei din) will continue their holy work, and we will find that mainstream normative Americanhalakhic authorities and batei din l'giyur within the RCA and OU rubrics begin subjecting Israeli converts coming here to lineage investigations with their Judaic acceptance in our American communities uncertain pending American halakhic certification.
One by one, Agudath Israel of America will implement such a stand, as will Igud HaRabbonim (Rabbinical Alliance of America). Next, the regional RCA conversion panels like the Rabbinical Council of California, the Chicago Rabbinical Council (cRc), and other of the most revered RCA regional councils will follow, not even waiting initially for national RCA to opine. The Conference of European Rabbis (CER) already has voiced its stand. So has Igud / RAA.
Implementation of non-recognition is next.
Sources:
[1] This year, The TASC Group won the following PRSA-NY Big Apple Awards:
· "Events & Observances (More Than Seven Days): Campaigns with Budgets of $150,000 or Less" for Making My Daughter's Death Count: The Launch of the Heather Heyer Foundation in the Aftermath of Charlottesville
· "Crisis Communication: Campaigns with Budgets of $150,000 or Less" for Orthodox & Ordained: Making the Case for Women Rabbis in the Orthodox Jewish Community
· "Diversity and Inclusion: Campaigns with Budgets of $150,000 or Less" for Orthodox & Ordained: Making the Case for Women Rabbis in the Orthodox Jewish Community
[2]
Protecting the Role of Female Rabbis in the Orthodox Jewish Community
The TASC Group
· 2021 Nonprofit Winner for Crisis Management
· 2021 Nonprofit Honorable Mention for Media Relations
· 2021 Nonprofit Honorable Mention for PR on a Shoestring Budget
The first organization to ordain women to become Rabbis (Rabbas) in the Orthodox Jewish community,
Yeshivat Maharat's mission is to educate women in Jewish law and pastoral counseling and ready them them to lead Orthodox communities.

However, the Orthodox Union—the body that manages rabbinic law—was contemplating a rule to reinforce the longtime practice of precluding women from serving as Rabbas (which it has since issued), even though several had already been ordained and were performing their duties in synagogues and shuls around the country.

In order to preserve the positions of Rabbas in their synagogues and shuls, TASC was tapped by Yeshivat Maharat to initiate a crisis and advocacy communications campaign.

Along with writing and circulating press releases as well as conducting dozens of interviews with the media, TASC's comprehensive campaign involved creating an op-ed strategy promoting Yeshivat Maharat's case and connecting it to the #MeToo movement. TASC helped to write, edit and place a crucial op-ed in the New York Daily News by Rabba Sara Hurwitz that leveraged the #MeToo movement to make the case for more women in clergy positions.

Brown bag meetings were also organized with leading religion reporters from a variety of influential outlets, including Jewish newspapers, the Associated Press and the New York Daily News. The reporters were briefed on the intricacy of the rabbinical issues pertaining to the ordination of Orthodox women.

Ultimately, TASC's crisis, communications and advocacy efforts generated community-wide support and helped prevent the expulsion of the Rabbas. The OU decided that synagogues and shuls that currently had Rabbas could keep them but it prevented additional placement of women in the clergy.

Significant media coverage throughout the campaign yielded more than 3 million media impressions.
Honorable Mention:
-WordWrite Communications - YMCA of Greater Pittsburgh's CPR Plan