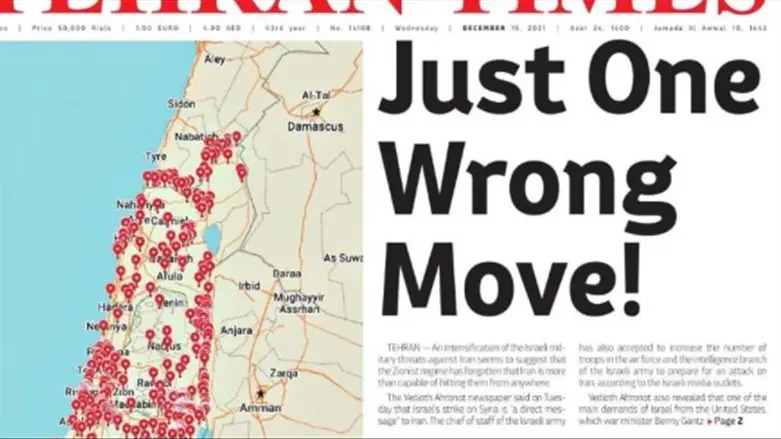 The front pager of the Tehran Times
צילום: עצמי
"Just one wrong move" - and these are the targets that will be hit in Israel, the front page of the Tehran Times issue published early Wednesday morning declared.
The front of the newspaper showed a map of Israel marked with "targets" which Iran supposedly could hit.
"An intensification of the Israeli military threats against Iran seems to suggest that the Zionist regime has forgotten that Iran is more than capable of hitting them from anywhere," the Times article said.
"The Israeli military experts are worried about the short timespan it takes Iran to hit Israel," since "it takes Iran an hour to launch missiles into Israel," the Tehran Times said, quoting Yediot Aharonot.
The Tehran Times also quoted Iranian Chief of Staff Major General Mohammad Bagheri, who on Tuesday said, "our forces have never underestimated the threat of the enemy and are prepared for the smallest of threats in the strategic field."
He emphasized that the Iranian military is at "maximum vigilance commensurate with the enemy's situation."
"At the strategic level, we do not intend to strike anyone, but at the operational and tactical level we are ready for a decisive response and a quick and tough offensive against the enemy," Bagheri said.
Noting the timing of Israel's scheduled aerial exercise, the Times claimed that, "Germany has paired up with the UK to collaborate with Israel during the Vienna talks," and warned, "The Israeli disruptive moves are not a mystery to the negotiators."
"Keep your hands off!" the Tehran Times concluded.