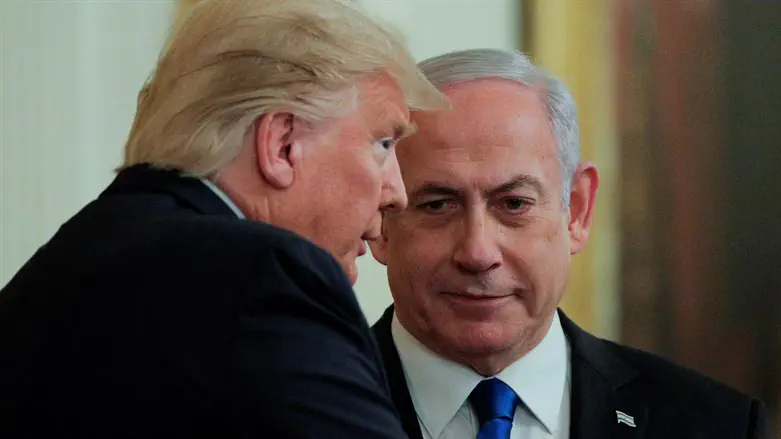 Donald Trump and Netanyahu
Reuters
It's never a pretty sight when two seasoned heavyweights square off again to settle old scores…though neither Trump nor Netanyahu can ever be written off.
There's still plenty of juice in both these men for a rousing comeback.
Meanwhile, however, both are out of power, and even as leaders of the opposition, most they can do is watch, and oppose.
They can also stir up headlines as Trump just did by publicly accusing Netanyahu of ingratitude going back to 2020 when Netanyahu was among the first to congratulate Biden for the win.
"The ink wasn't even dry" on the final ballot, and there went Netanyahu full speed to ingratiate himself with Biden… as Trump still sees it with some bitterness.
So this, Trump says, is the thank you I get for the Abraham Accords, for recognizing Israel's legitimacy over the Golan Heights, and for moving the US Embassy to Jerusalem.
No American president has ever done nearly as much for the Jewish State, and loving Biden, this is my reward, complained Trump, feisty as ever.
Stung, but quick on his feet, Netanyahu punched back, saying that as prime minister of Israel, his duty was to establish good terms with the US president, whoever it might be.
So this is not a rumble anybody wants to watch… two former champs, Trump and Netanyahu, reduced to squabbling.
In their prime, individually and as a team, they were winners, and they were pals.
What turned it around? Nothing that Netanyahu did, nor Trump, but lashing out is what people do when they feel wronged, but can't locate the source of the pain.
Trump merely scratched the wrong itch.
Trump picked on Netanyahu through misdirected frustration.
Or because it was Monday, and another morning to remember all the cruelties that were dumped on him from a System that has no shame.
Netanyahu wakes up the same way.
It still hurts. The injustice of it will always hurt.
In a perfect world, or, in a world that values fairness, Trump and Netanyahu would still be leaders of their respective countries.
They were that good.
The people wanted them, but the backroom bosses had other plans…plans in which Trump and Netanyahu did not fit.
So both Trump and Netanyahu got squashed by an establishment that tormented them, and finally ousted them, without cause.
The bosses used every trick to get their way, and in Israel, they even brought in members of the Muslim Brotherhood to activate the ruling coalition.
Against Trump it was on Russia that they built a hoax, against Netanyahu it was Bribery.
The indignities suffered by both men are remarkably identical for the persistent mendacity of the accusers…and remarkably without merit.
To this day, none of the accusations manage to stick, not against Trump, and not against Netanyahu.
But the backroom bosses will keep trying.
Count on it; they will do anything to get power and stay in power. Anything!
New York-based bestselling American novelist Jack Engelhard writes regularly for Arutz Sheva.
He wrote the worldwide book-to-movie bestseller "Indecent Proposal," the authoritative newsroom epic, "The Bathsheba Deadline," followed by his coming-of-age classics, "The Girls of Cincinnati," and, the Holocaust-to-Montreal memoir, "Escape from Mount Moriah." For that and his 1960s epic "The Days of the Bitter End," contemporaries have hailed him "The last Hemingway, a writer without peer, and the conscience of us all." Website: www.jackengelhard.com
Engelhard books
J.Engelhard