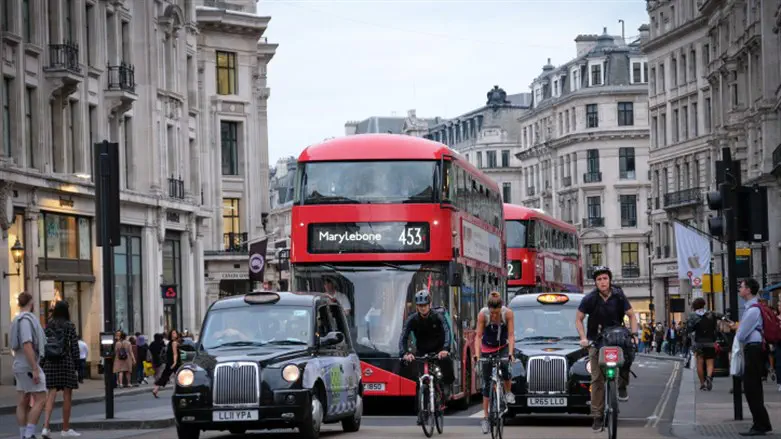 London (archive)
Nati Shohat/FLASH90
A group of British Jewish teens who were harassed by a youth mob in London while celebrating on an open-top bus returned to the scene of the incident to light Hanukkah candles on Sunday night.
The menorah lighting event was organized by Chabad and was attended by around 50 people who showed up in solidarity, the Jewish Chronicle reported.
At the beginning of Hanukkah, the teens were celebrating in an open-top bus on Oxford street when they were attacked by a mob of violent youths. The mob attempted to smash the bus's windows while others made Nazi salutes and spit. Police were called to the scene and the Chabad teens returned unharmed to the bus.
The incident is being investigated as a hate crime by London police.
The show of defiance by Chabad and its supporters comes after the Board of Deputies demanded that the BBC apologize after it claimed that the Jewish victims of the anti-Semitic attack had made anti-Muslim slurs at the assailants.
In its reporting on the incident, the BBC alleged: "A slur about Muslims can also be heard from inside the bus. The Met Police has said the incident will be looked at 'in its entirety'."
But it was pointed out that the phrase in question was not a slur but a cry for help from one of the teens in Hebrew.
"The BBC thought that they heard a slur in English. What they were actually hearing was a distressed Jewish man speaking in Hebrew appealing for help," the Board of Deputies said in a statement.
The BBC later corrected the article to remove the allegation that the teens could be heard using multiple slurs.
"The article is about the police's appeal for information," a BBC spokesperson told the Chronicle. "The main focus is the actions of the individuals the police want to identify. The audio appears to show that a slur can be heard coming from the bus. We have changed our story to clarify only one such slur can be heard clearly."