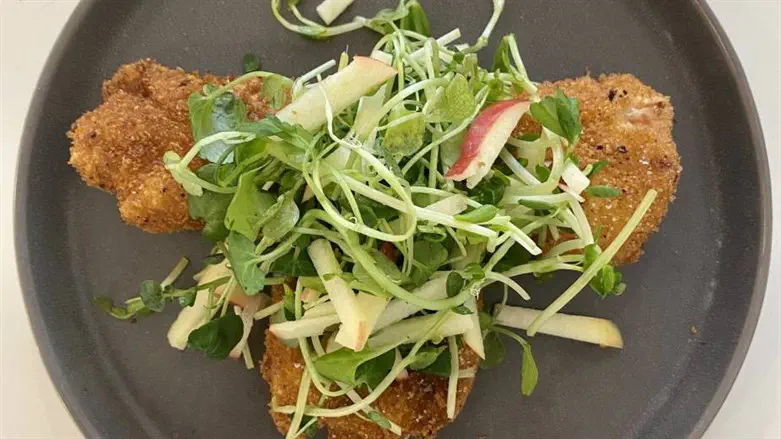 Asian Marinated Fried Chicken with a Spicy Apple Slaw
Jessica Beren / Kosher.com
Ingredients:
Chicken and Marinade
1 (2-pound) pack chicken pargiyot, sliced in half
1/4 cup seasoned rice vinegar
1/4 cup mirin
1/4 cup agave
1/4 cup Gefen Soy Sauce
1/4 cup sweet chili sauce
For Breading
1 cup flour
4 eggs
1/2 cup panko crumbs
1/2 cup sweet chili panko crumbs
1/2 cup Gefen Corn Flake Crumbs
Spicy Apple Crisp Slaw
1 honey crisp apple, julienned
pea shoots
handful of baby watercress
zest and juice of 1 lime plus the juice of 1 additional lime
2 tablespoons agave
2 tablespoons seasoned rice vinegar
1/2 teaspoon sriracha
1/2 chopped jalapeño
Prepare the Chicken
Marinate the chicken for at least two hours or overnight in the fridge.
Season the flour (I season it with some onion powder, garlic powder, paprika and salt). Dip chicken in the flour, making sure it gets fully coated.
Next, whisk eggs and add the chicken.
Lastly, combine regular and sweet chili panko crumbs and cornflake crumbs and coat the chicken.
In a heavy Dutch oven over medium-high heat, add canola oil. I use a Dutch oven pot because I have found that stainless steel pots get too hot to quickly and deliver an uneven fry.
To check if the oil is ready, put in the back of a wooden spoon, and if bubbles form around it, it's good to go! Add the breaded chicken to the oil and fry until golden.
Place the chicken on a cooling rack to get a perfect all-around crispy crust. Season with salt.
Prepare the Apple Slaw
Toss together apple, pea shoots, and watercress. Add lime zest.
Whisk agave, rice vinegar, sriracha, jalapeno, and lime juice until combined. Pour over salad.
Plating
Finish the plate with some lime zest for brightness and some flaky Maldon salt. And now you have the perfect appetizer to serve at your Chanukah party!