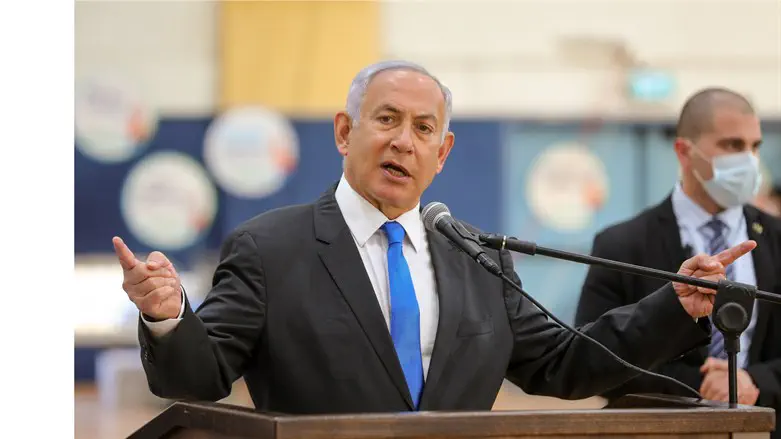 Benjamin Netanyahu
Liron Moldovan/POOL/Flash90
Israeli Opposition Leader and former Prime Minister Benjamin Netanyahu arrived at the Jerusalem District Court Monday morning, as a former top aide took the witness stand to testify against him in the Case 4000 corruption trial.
Nir Hefetz, a former senior advisor and confidant of then-Prime Minister Netanyahu, testified as a state witness Monday morning, kicking off what is expected to be weeks of court hearings centering around Hefetz's testimony.
Hefetz called the former premier a "control freak", claiming he was obsessed with his media coverage.
"Netanyahu's involvement in media issues was almost like his involvement in security issues," Hefetz told the court.
As media advisor to Prime Minister Netanyahu, Hefetz testified "handling the Netanyahu family was part of the job description."
"I saw it as an essential task, because I saw that dealing with the media coverage of his family interfered greatly with Netanyahu's ability to run the country."
"It was unbelievable how much media coverage was important to him, consuming so much of his time. He wanted to know everything, regardless of where he was - even if he was in a security meeting, we'd be sending him notes."
Netanyahu's former media advisor said the former prime minister made some key decisions with his family, including his decision to appoint himself Communications Minister.
"Netanyahu's decision to appoint himself Communications Minister was made with his wife. It was very much a family decision that only he could be Communications Minister because the idea was that if anyone else would be Communications Minister, regardless of how loyal they were, the media would go after them, and no one would be able to stand up to the media like Netanyahu."
Hefetz had originally been slated to testify last week, but last Monday the court ordered that Hefetz's testimony be delayed, after prosecutors revealed they had collected new testimony from Hadas Klein in the Case 1000 trial, with information leaked to the media.
The court ordered a week delay in order for the defense team to prepare for the new testimony by Hefetz.
A number of Likud lawmakers joined Netanyahu and his attorney in court Monday, including MKs Amir Ohana and Shlomo Karhi.