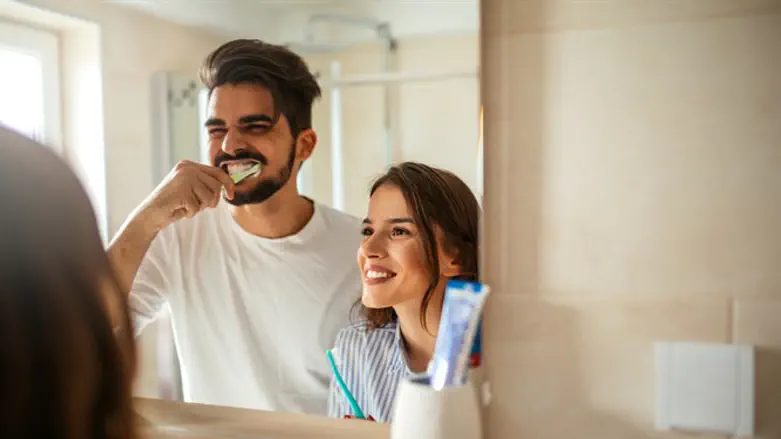 Brushing Teath
צילום: Deposit Photos
Telehealth may often be described as the remote technology made to make health care services and information more accessible to everyone. Telehealth may not be limited to only health facilities but also includes various faculties of the wellness industry, including dental health and dentistry. Telehealth in the world of dentistry has been making significant developments in order to encapsulate a broad array of home-based services such as teeth whitening, alignment kits, and numerous additional dental care services.
As a result of the COVID-19 global pandemic, many people have discovered the grandeur of dental telehealthת since they were required to pursue dental care remotely, with so many dental offices being shut down in accordance with government regulations. With routine dental check-ups being postponed, people were compelled to turn to dental telehealth to take care of their smiles at home with the support of a remote provider. However, it is important for those that are interested to learn about insurance orthodontics to make educated judgments through substantial research.
Is teledentistry the future of dental health?
Teledentistry has made impressive discoveries in the orthodontistry trade to allow for dental care to be more accessible to individuals looking to make an investment towards their smile. Smile Prep as a company has made information about at-home treatment options easily accessible and approachable for people looking to invest in their teeth but who do not want to go to the traditional orthodontist. It may be assumed that sometimes information on telehealth may be confusing for young adults and individuals who are unaware about the subject of dental health. As a company, Smile Prep provides practical guidance and detailed guides which break down the advantages and disadvantages of common orthodonsitry methods in comparison to at-home dental care for teeth alignment treatment options.
For individuals who are looking to opt for teledentistry solutions, it is important to do detailed research focused on analysis of available dental services and what they have available on offer. Paying close attention to factors such as customer service, product safety, and affordability, is what is required in order to ensure the best possible dental care out of teledentistry. To get the most out of the new advances in teledentistry, it is essential to look past brand popularity that comes with cosmetic dental care for individuals who are more likely to choose at-home service providers instead of traditional in-office dental care.
Home dental straightening kits can be a phenomenal alternative for young adults
Home orthodontic treatment is a relatively new and exciting concept for most individuals looking for alternative treatment options for a variety of dental issues. When compared to traditional dental care in orthodontic procedures, remote treatment options seem to be significantly more affordable and often just as effective. The concept of teledentistry makes home dental treatment approachable with a plethora of information available for research, including comprehensive reviews to make informed decisions about any specific dental concern.
With several successful providers on the market, professional teeth alignment companies make a great addition to the cosmetic telehealth industry, and offer an exceedingly convenient and affordable option for individuals looking to perfect their smile. Compared with traditional braces with metal brackets, a teeth-straightening kit from companies like Byte and Candid may potentially be a good option for those who are looking for a more discreet option.
Teeth-straightening benefits
One of the main advantages of using a teeth-straightening kit is that it is, more often than not, a quicker and more viable solution than traditional metal braces. However, individuals should necessarily read reviews about home teeth-straightening in order to truly understand that different products offer different treatment durations based on the quality of the service and the product itself. Some patients potentially lead busy lifestyles, which may not give them the time to get by a dentist or orthodontist's office; for those patients the added benefit of telehealth may be the ability to look after their teeth in the comfort of their home, remotely. Users of teeth- straightening kits can receive online updates and their prescriptions and products through the convenience of the mailbox.
Why remote dental care may be a very credible option
With all the options available on the market for teeth-straightening, it is natural to consider the product's credibility. It may prove difficult for some individuals to trust the process to achieve a perfectly straight smile. Smile Prep offers genuine feedback from real-life customers who have tried and used these home treatments with guidance from professionals, and for indecisive individuals looking to dabble in the whole telehealth dental cosmetic industry. These reviews are as accurate and authentic as possible to ensure that people who want to do these types of treatments have the information to enable their capacity to form knowledgeable opinions. With the information available online, individuals can choose a reliable and trustworthy dental telehealth service after doing the research and comparing the customer reviews on the products.