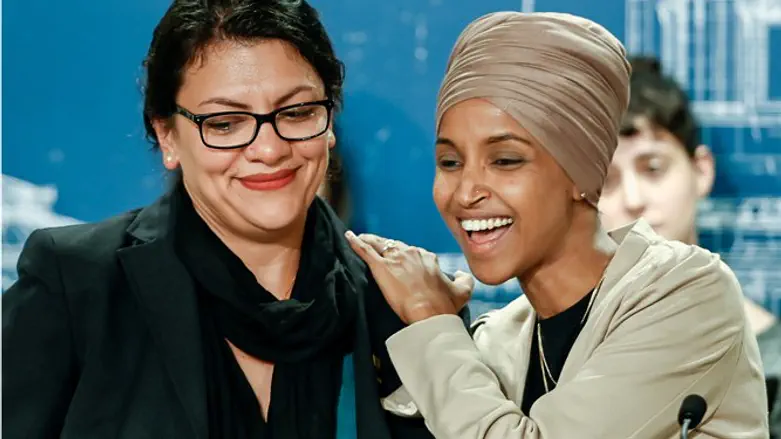 Rashida Tlaib and Ilhan Omar
Reuters
A number of radical Democrats including "Squad" members Ilhan Omar and Rashida Tlaib are threatening to vote against a new government budget out of opposition for the $1 billion intended to replenish Israel's Iron Dome defense system, according to a Bloomington News report.
Republicans across the board are expected to oppose the move due to its debt ceiling provision, while it would take just three Democrats voting against to have the bill shelved.
While Democrats were attempting to negotiate modifications allowing the bill to be put up for a vote, self-acknowledged anti-Israel activists Omar Rashida Tlaib whose mother was born in a PA-controlled village bordering Ramallah and father in a neighborhood of Jerusalem and who supports the BDS (Boycott, Divestment, Sanctions) movement as well as a one-state solution and Somalia-born fellow BDS backer Ilhan Omar have come out against the aid package although they have failed to clarify on what grounds they object to the provisions.
The bill comes following a Defense Department request for a $1 billion package to replenish Israel's stock of Iron Dome missiles employed in defense of the Jewish State during a month of rocket attacks by Hamas and Islamic Jihad in May of this year.
Foreign Minister Yair Lapid spoke tonight (Tuesday) with Majority Leader of the House of Representative Steny Hoyer with regards to the issue.
The conversation revealed that the decision to remove the Iron Dome interceptors clause was technical in nature and stemmed from a Congress debate over the US budget deficit ceiling.
House of Representatives Majority Leader, Nancy Pelosi reiterated the White House's commitment to the State of Israel, as did Senate Majority Leader Chuck Schumer, promising that monetary assistance for the Iron Dome would be transferred in the near future.
Minister Lapid thanked Hoyer for his commitment and stressed the need to approve the request as soon as possible to ensure Israel's security needs.
Labor Party MK and Minister of Diaspora Affairs, Nachman Shai tweeted following the debates at Capitol Hill today: "The Democrats are slowly taking back their promises to compensate Israel for its losses during Operation Guardian of the Walls. We are reaping the grim fruits of Netanyahu's preference for Trump and Republicans over the Democrats. We need the [American] Jewish community and its political influence [on our side]. It will take a long time to repair the damage.