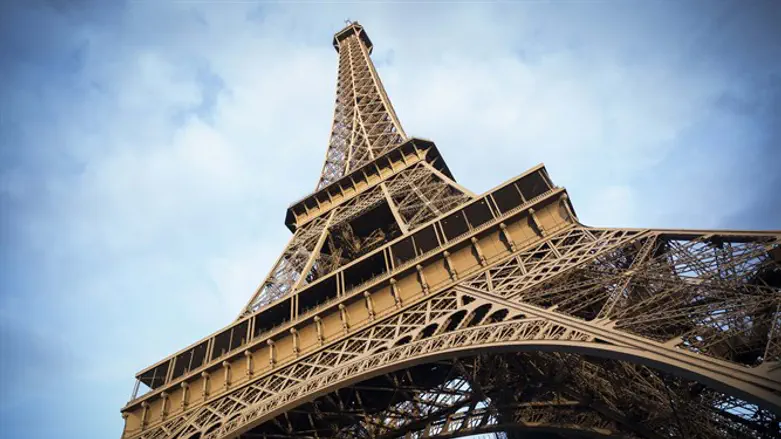 Eiffel Tower in Paris, France
Flash 90
Almost a year after the beheading of Professor Samuel Paty in a middle school in Conflans-Sainte-Honorine, after which the Minister of Education Jean Michel Blanquer revealed that 800 Islamist "episodes" have occurred in French schools, a French professor was suspended for praising the Taliban.
On August 16, the day after the capture of Kabul, Khalid B. wrote on his Facebook account: "The Taliban have will and courage ...". Khalid B. does not teach in a "difficult suburb", but in Peltre. A village of 1,900 inhabitants, Peltre, near Nancy, tops the 2020 list of "villages and towns where life is good". Le Figaro tells that it is not the first time that the teacher has praised the Islamists.
And he is certainly not the first French teacher to praise Jihad.
L'Express reveals that a math teacher, who was also an imam, Abdelali Bouhnik, was suspended from the Académie of Créteil for having invited "the faithful to pray for jihadists around the world". Member of National Education for more than 25 years, the man taught mathematics at the Jean Moulin high school in Torcy.
In Lyon, says Le Parisien, an aspiring professor was arrested for "condoning terrorism and threats to Catholic staff and students".
More than 1,000 jihadist propaganda photos and videos were stored on another professor's computer, Le Parisien reveals. The Grenoble-born mathematics teacher, born in Morocco, was sentenced to two years in prison after teaching for a long time in public and high schools. Khalid Z., a member of a Salafist movement and translator of Al Qaeda, taught in a public high school in Rennes.
What do all these cases tell us? That French disintegration is at a very advanced stage and that Islamists have infiltrated all ganglia of the public apparatus, from the police to the schools. Islamists have already recruited dozens of French and ex-military soldiers who converted to Islam. Many come from specialized units, with experience in handling weapons and explosives.
Two years ago, an Islamist hit one of the safest buildings in France from the inside: the monumental Paris police headquarters, near Notre-Dame Cathedral, where he killed four colleagues. The Islamist, in fact, worked in the anti-terrorism unit. "I have the impression that our immune defenses have collapsed and that Islam is winning," says French essayist Pascal Bruckner.
"Comment on a laissé islamisme pénétrer l'école" is the title of the book by Jean-Pierre Obin, former inspector general of education, on the Islamist conquest in French schools. We have reached the point that 40 per cent of teachers in France censor themselves on "sensitive" subjects.
A country where a student, Mila, had to drop out of two schools this year and now lives "like the staff of Charlie Hebdo, bunkerized", as Mila's lawyer Richard Malka said (there are 85 policemen to protect journalists).
A country where "Caroline L.", a lecturer at the University of Aix-Marseille, has received countless death threats, accused of "Islamophobia", for having explained to her students that "there is no freedom of conscience in Islam".
A country where a university teacher was placed under police protection and another had to leave school and ask for a transfer due to Islamist threats.
A country where in a high school in Caluire-et-Cuire, in Lyon, a student threatened a teacher to "cut off his head".
A country where a high school in Riom was even closed due to "death threats" against teachers.
In 1989, when the campaign to Islamize public schools began, the slogan was "Teachers do not capitulate!". Since then, it is France that seems to have capitulated. And it is on the way, as the Algerian writer Boualem Sansal observed, to become "an aspiring Islamic republic".
Giulio Meotti is an Italian journalist with Il Foglio and writes a twice-weekly column for Arutz Sheva. He is the author, in English, of the book "A New Shoah", that researched the personal stories of Israel's terror victims, published by Encounter and of "J'Accuse: the Vatican Against Israel" published by Mantua Books, in addition to books in Italian. His writing has appeared in publications, such as the Wall Street Journal, Gatestone, Frontpage and Commentary.