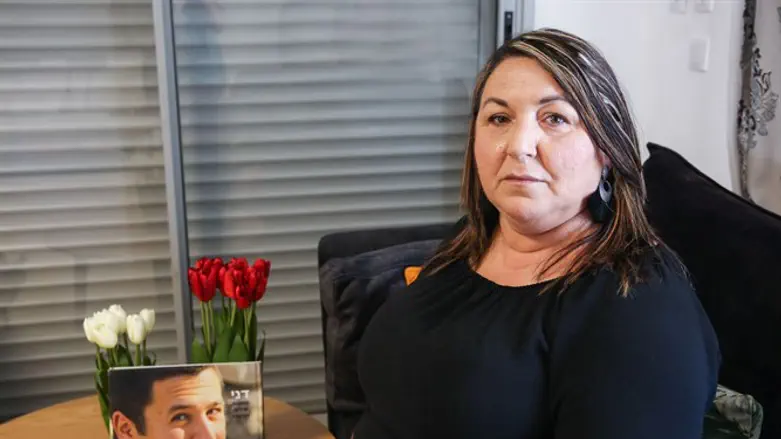 Devora Gonen
Ofer Amram
The families of those killed by the six terrorists who escaped from Gilboa prison and have yet to be recaptured have expressed their anger and frustration at what appears to be a series of failings that led to the incident.
Devora Gonen, one of the heads of the "Choosing Life" forum for bereaved families and the mother of Danny, who was killed in a terrorist attack, told Israel Hayom that "the writing was on the wall."
"For years we've been warning of the need to put an end to the pampered conditions in which terrorists are held in our prisons," she said, relating to one of the contributing factors in the escape being thought to have been the ability of prisoners to communicate with the outside using cell phones, because the prison authorities feared the repercussions if they blocked all cell phone reception in the prison."
"This most recent failure only highlights how helpless our governments are in their war against terrorism – and also their lack of will to bring true justice to those who murdered our loved ones. It goes without saying that all this only serves to encourage the next terrorist attack," she added.
"The Minister of Public Security and the Prisons Service Commissioner should resign today," she continued. "Anyone who brings terrorists into his government shouldn't be surprised when they escape from the prisons."
Shmuel Oshri, the brother of Eliyahu Oshri who was murdered in 2006 by one of the six escaped terrorists, said, "I'm sure the security forces will do everything possible to catch the terrorist who murdered my brother, and I hope that during the chase he receives the death penalty that he deserves."
Shmuel added that his parents had been informed that the terrorist who killed their son had broken out of prison, and that his father's response was, "G-d is in charge of everything."
Asked how he would feel if his brother's murderer remained at large, Shmuel said, "I think about my brother all the time; I don't think too much about the terrorists who murdered him. The only thing I'm really thinking about now is the terrible state of our country. It pains me to see the state we're in."
Rabbi Yitzhak Nissim, the head of the pre-military yeshiva where Elisha studied, said, "This event has given rise to extremely difficult feelings. I still remember the day when we caught the murderers and we saw the Satanic smiles on their faces – so completely different from the pure smile that was always on Eliyahu's face. This murderer must be apprehended."
Avner Weiss, the father of Inbal, who was killed in a terrorist attack on an Egged bus in November of 2001, told Yediot Aharonot, "I hope very much that the terrorists will be caught swiftly. We're talking about extremely dangerous people, and I can't get my mind around the idea that they were allowed to escape."
"It's just dreadful what's happened here. I want to believe that the security forces will succeed in capturing the terrorist who was involved in the murder of my daughter, along with the rest of the gang. But it's very disturbing that such dangerous terrorists succeeded in escaping from a secure prison – something very wrong went on there."