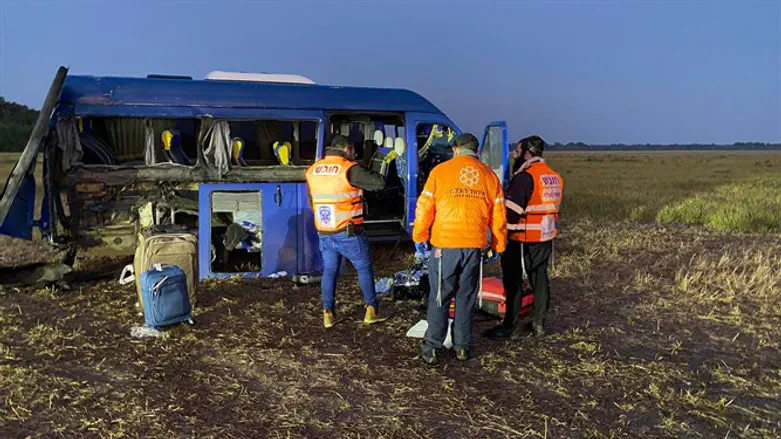 Scene of tragedy
United Hatzalah
A shuttle taxi taking Jews from Uman back to Kiev following Rosh Hashanah (the Jewish New Year) has been involved in a collision with a public bus.
Around 10 of the Jewish passengers were lightly injured and one man, a haredi Jew in his forties from Israel, was critically injured and his death was determined at the scene.
The collision occurred on the main highway connecting Uman to Kiev, when the driver of the shuttle taxi apparently lost control of the vehicle.
Rescue workers were summoned to the scene and treated a number of injured but were unable to save one of the passengers.
The identities of those involved in the collision have yet to be released, but it is already known that they were Jews from abroad who had traveled to Ukraine to spend Rosh Hashanah at the gravesite of Rebbe Nachman of Breslov, who is buried in Uman.
A United Hatzalah spokesperson operating in Ukraine said that United Hatzalah medical staff provided initial aid and performed CPR at the scene of the severe accident, which occurred in the early hours of the morning near the city of Uman, Ukraine.
Aharon Ben Harrouch, a United Hatzalah paramedic, said: "This was an accident which involved a minibus and a bus, which occurred 70 kilometers (43 miles) from Uman. With the help of other paramedics and staff from the Uman clinic, we performed CPR at the scene of the accident on one of the passengers, who was critically wounded. However, to our great sadness, following our efforts at resuscitation, he was pronounced dead at the scene."
"In addition, we provided initial aid to four people from the minibus who were lightly injured, and afterwards they were evacuated to the hospitals in Kiev."
Ben Tzion Crown, another United Hatzalah paramedic, said: "According to the passengers, they were on their way back from Uman to the airport in Kiev, ahead of their flight back to Israel. Unfortunately, one of the passengers in the vehicle was critically injured due to the type of accident. We performed CPR on him in an attempt to save his life, but to our great dismay, we were forced to declare his death at the scene of the accident."