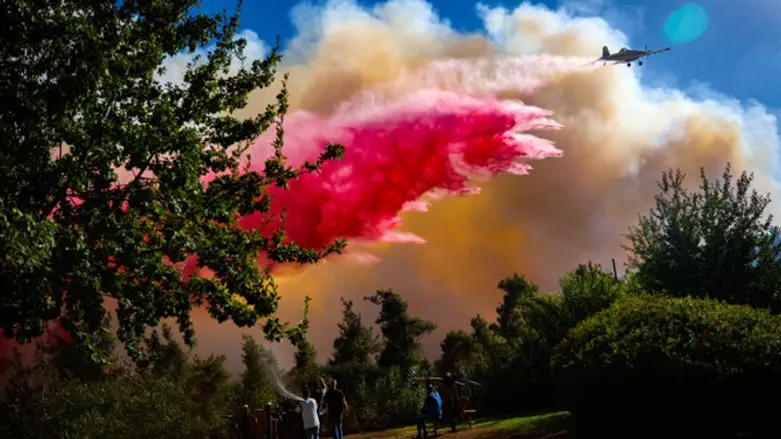 Efforts to control the blaze
Yonatan Sindel/Flash90
Fire fighters are still battling a massive blaze in a forest near the town of Beit Meir, not far from Jerusalem. Fire fighters from across the country as well as the Home Front Command have been deployed in an effort to bring it under control.
The blaze is visible from far and wide, including from many parts of Jerusalem. Several main traffic arteries including Highway One were closed during the afternoon but have since reopened.
Fire fighting efforts are now centered on the town of Ramat Raziel, and fire fighters have also been deployed in Tzova, Ein Kuba and Ein Rafa, and in Givat Ye'arim.
Speaking on Radio 103FM, Nissim Twitto, commander of the Jerusalem District Fire and Rescue Service, described the fire as "very serious; it has spread to enormous proportions. We are battling a massive blaze, with a real danger to homes - fire fighters are fighting for every single home," he said.
Fire as viewed from Malcha neighborhood of Jerusalem
צילום: חזקי ברוך
Previous years have seen huge fires break out in the Beit Meir area, with at least one attributed to arson.
Residents of Beit Meir, Ramat Raziel, and Ksalon have been evacuated from their homes. Those residents who were unable to leave due to blocked routes have been told to lock themselves in their homes, close the windows and wait for further instructions.
A senior firefighter in the fire department stated on Sunday evening that the fire had broken out as a result of a deliberate act of arson and added that the investigation into the incident is only in its infancy.
However, Police Commissioner Kobi Shabtai said that, "It is not yet known what caused the fire and whether it was man-made. After further assessment of the situation, we will decide whether to return residents to their homes."
The Fire and Rescue Commissioner, Dedi Simchi, added, "We will be here all night to be prepared for any scenario and any further evacuation required."
Meanwhile, MDA have treated three people suffering from mild injuries due to smoke inhalation, one of whom was an 81-year-old woman. None of the casualties needed to be admitted to hospital.
The Eitanim psychiatric hospital was also evacuated due to fears that the fire would reach it. Firefighters also rescued a resident of Ramat Raziel who had become trapped and was unable to escape due to the heavy smoke.
Earlier in the afternoon, Prime Minister Naftali Bennett interrupted a meeting of the political-security cabinet and held a consultation on the fire in the Jerusalem mountains.
An IDF spokesman reported that Air Force helicopters have also been deployed, along with soldiers from Unit 669 to assist in firefighting, evacuation and rescue missions. The National Emergency Authority within the Defense Ministry has opened the National Home Front Squadron in Ramla, in order to coordinate the activities of government ministries.
The fire in the mountains of Jerusalem
The Kiryat Ye'arim Regional Council has welcomed the Beit Meir yeshiva, along with a number of families from nearby localities. Mayor Yitzhak Ravitz said that, "Kiryat Ye'arim is opening its gates, and especially its heart, for families and will be happy to welcome any resident from the area who needs a warm home."
Photo: Ariel Kedem, Nature and Parks Authority
The fire near Beit Meir as seen from the Arutz Sheva studio in Jerusalem
Photo: Jonathan Gottlieb
Holyland neighborhood against the background of the fire near Beit Meir
Photo: Hezki Baruch
The Old City of Jerusalem with smoke burning in the background
השריפה בירושלים
צילום: Yonatan Sindel/Flash90