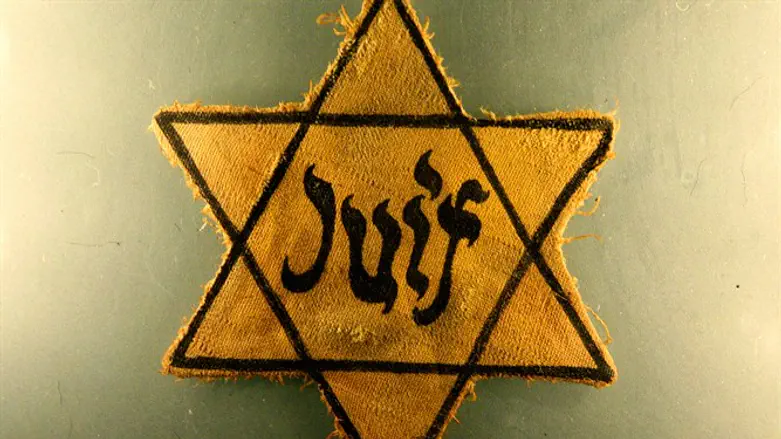 Yellow star (file)
Moshe Shai/Flash 90
A left wing activist group in Austria released an online map of the addresses of Jewish institutions in Vienna marked with a yellow Star of David.
The "Judenkarte" ("Jew card") was published by an anonymous group calling itself the "League Of Ordinary People Austria" who claimed their map was a protest against the "Islamkarte" map of Austrian Muslim sites that had been drawing controversy since its publication in June, reported Der Standard newspaper.
The group issued an announcement that the Judenkarte would soon be expanded to cover all of Austria, adding they would only take it down if the Islamkarte was withdrawn.
The Judenkarte is "petty activism at the expense of Jewish community," said Benjamin Nägele, Secretary General of the Jewish Community Vienna (IKG Wien).
Nägele stated that the community is looking into legal action against the publishers of the map.
After several hours of being online, the map received a flurry of outrage and criticism and was removed. In its place was a list of links to Jewish institutions, with the activists insisting they had only made use of publicly available information.
Reports from Austrian media point to the anonymous group belonging to the far left. The group had previously attempted to publish a map of the personal addresses of politicians. That project was vetoed by the group. They also announced similar maps of Catholic organizations and far right organizations and fraternities.
With Austria's Jewish community facing increasing levels of anti-Semitism in recent years, the Judenkarte put the community on edge.
The IKG's annual report on anti-Semitism, released in April, found that 2020 was a "year marked by violence." It stated there were at least 585 anti-Semitic attacks in Austria last year, according to the European Jewish Congress.