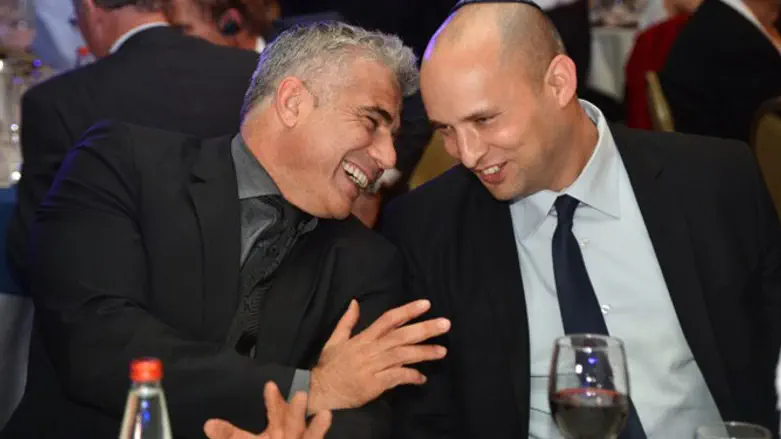 MKs Yair Lapid and Naftali Bennett
Yossi Zeliger/Flash 90
The incoming national unity government is set to include an agreement guaranteeing that Yesh Atid chairman Yair Lapid will rotate in as Prime Minister – even if the government reaches the same deadlock which brought down the current coalition.
Last December, the Israeli government collapsed and the 24th Knesset dissolved after the Likud and Blue and White parties failed to reach an accord for a state spending plan. By law, if the government fails to pass a budget by the deadline, the Knesset must be dissolved and snap elections called.
Because of the government's collapse, Blue and White chairman Benny Gantz was unable to rotate in as prime minister, leaving Prime Minister Benjamin Netanyahu in power during the transition period at the helm of the caretaker government.
According to a report by Behadrei Haredim Monday morning, to avoid a repetition of this scenario, Yair Lapid and Naftali Bennett, who are set to share the premiership in a rotational agreement, have agreed to include a special clause in the coalition deal ensuring Lapid will rotate in regardless of the government's ability to pass a budget.
Under the rotational deal, Bennett is set to serve as premier for the first two years of the government, followed by Lapid, who will serve as prime minister for the latter two years of the government's term.
If, however, the government under Bennett fails to pass a budget within three months of being sworn in, or again, by June 2022, Bennett will automatically rotate out as premier, with Lapid replacing him even before the two years are up.
This arrangement will ensure Lapid an opportunity to pass a state budget before the statutory deadline. Should Lapid fail to pass a state budget as well, however, the Knesset will be dissolved and new elections called.
With a narrow 61-seat majority for the incoming government, passing the state budget is expected to be a significant challenge, prompting Yesh Atid and Yamina to include the clause in their coalition deal.