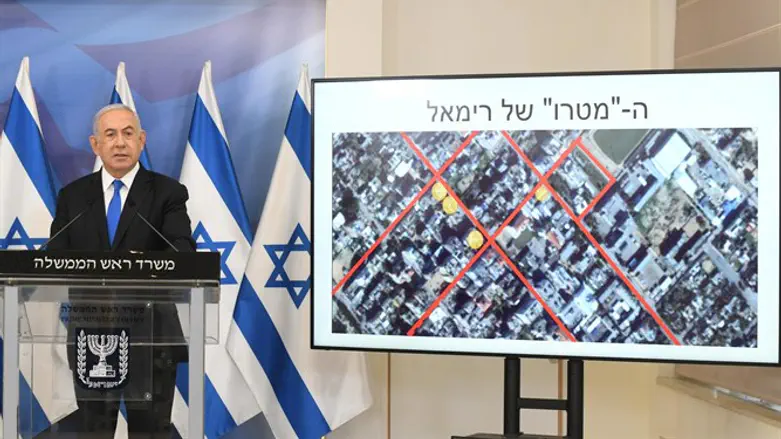 Netanyahu at the Kirya base
Amos Ben Gershom/GPO
Israeli Prime Minister Benjamin Netanyahu claimed victory Friday in the latest round of fighting with the Gaza Strip, saying that Israel's 11-day counter-terror operation caused serious damage to the Hamas terrorist organization.
Speaking to reporters Friday afternoon in a joint press conference with Defense Minister Benny Gantz, Shin Bet chief Nadav Argaman, and IDF Chief of Staff Aviv Kochavi, Netanyahu said that the Gaza-based terror group Hamas had suffered far worse damage than media reports have indicated.
"We hit the terror group hard. The public doesn't know everything yet, nor does Hamas. Our accomplishments will be revealed in time. At this point I can say that we did bold, unprecedented things, without getting drawn into unnecessary adventures," said Netanyahu, hours after a ceasefire went into effect, ending Operation Guardian of the Walls with no ground incursion into the Gaza Strip.
"We managed to cause serious harm to Hamas, with minimal harm to Israel."
The prime minister vowed that Israel has zero tolerance for rocket attacks, warning Hamas that the IDF would respond even to a small number of rocket launches.
Netanyahu touted Israel's "iron wall" - a subterranean detection system used to foil terrorist infiltrations into Israel via underground tunnels.
"Every time [the terrorists] approached, they were destroyed underground."
On Thursday night, Israel approved the Egyptian-brokered ceasefire deal with Hamas, ending 11 days of fighting. The ceasefire went into effect at 2:00 a.m. Friday.
After the ceasefire went into effect, Israel's military released details about Operation Guardian of the Walls.
Some 200 terrorists from Hamas and Islamic Jihad were eliminated during the operation, including 25 terrorist commanders - five of them top officials.
Health officials in the Gaza Strip say a total of 232 people were killed during the 11-day operation.
The IDF also hit around 70 multi-barreled missile launchers, nine multi-story buildings that housed Hamas infrastructure and offices, and dozens of command centers, outposts, and training camps used by terrorist organizations in the Gaza Strip.
The Iron Dome missile defense system shot down around 90% of missiles fired into Israel.
Referring to the failure to liquidate Hamas' chief commander, Mohammed Deif, an IDF spokesman said, "We did everything we could to make sure that bad people didn't come out of this alive."