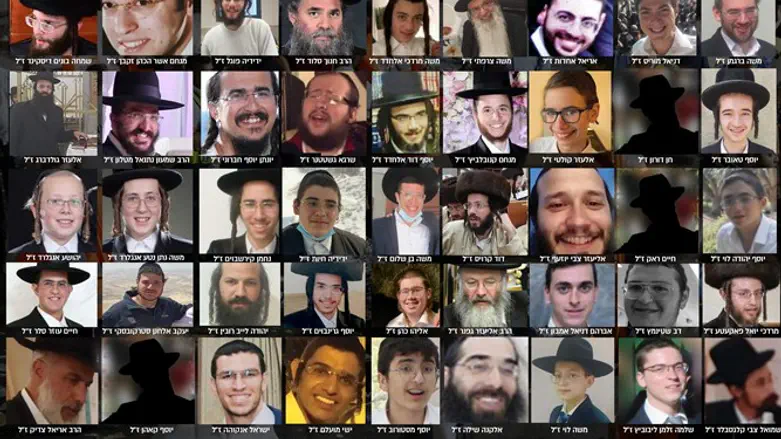 הרוגי האסון
באדיבות המשפחות
The names of some of the 45 people who were killed Thursday night in a stampede at the gravesite of Rabbi Shimon Bar Yochai in Meron have been published.
Initially, just two of the victims' names were released: Menachem Asher Zakbach, 24, of Modi'in Illit, and hasidic singer Shraga Gestetner, age 35. Zakbach is survived by his pregnant wife; his funeral will be held at 4:00p.m. and he will be laid to rest in Petah Tikva. Gestetner's funeral will take place at 3:00p.m. and he will be laid to rest in Jerusalem.
Soon afterwards, additional victims were named: David Kraus (33), a father to nine and a resident of Beit Shemesh; Yosef Amram Tauber from the USA; Rabbi Eliezer Mordechai Goldberg, a 37-year-old father of four from Beitar Illit.
Others were named as Eliezer Tzvi Joseph, a 26-year-old married father of four from the USA; Eliyahu Cohen, a 16-year-old Breslov hasid and a resident of Beitar Illit; Simcha Bunim Diskind, 23, of Beit Shemesh; and Shimon Matalon, 37, of Beitar Illit.
Two minor siblings, 14-year-old Moshe Natan Neta Engelard and 9-year-old Yehoshua Engelard, were also among the dead. Another sibling set included Moshe Mordechai Elchadad, 12, and Yosef David Elchadad, 18, from Jerusalem.
Chaim Seller of Jerusalem, a married 24-year-old father of a two-week-old baby girl, was also among the victims, as was 52-year-old Rabbi Chanoch Slod, a Gur hasid from Ashdod.
CLICK HERE TO HELP THE FAMILIES OF THE MERON TRAGEDY VICTIMS
Yedidya Asher Fogel, 22, was named as a victim as well. A resident of Jerusalem, he studied in the Ramat Gan Yeshiva. Moshe Ben-Shalom, a 20-year-old yeshiva student from Bnei Brak, studied in the Ponevezh Yeshiva.
The Givat Shmuel study hall announced that one of its students, Yonatan Chevroni, was also among the dead. Chevroni was the father of three daughters.
Rabbi Yehuda Leib Rubin, 27 and a father of three, was a resident of Beit Shemesh. He is the youngest son of the legendary scribe Rabbi Yom Tov Rubin, who is the chief editor of Hamevaser.
Elazar (Azi) Yitzchak Koltai, a 13-year-old from Jerusalem, and Yedidya Chayut, a 13-year-old resident of Bnei Brak, were also among the dead, as were 14-year-old Moshe Levi. and Nachman Kirshbaum, 15 years old and a resident of Beit Shemesh.
The victims also included Ariel Tzadik, 54; and Rabbi Shmuel Tzvi Klugsbald, 43, who is survived by his wife and eight children.
Yaakov Elchanan Strakovski, 20 years old and from Elad, Israel, studied in the Be'er Yisrael yeshiva. Avraham Daniel Ambon, 21, was an Argentinian citizen who studied in a Jerusalem yeshiva. Daniel Morris, 19 years old and from New Jersey, was studying in Sha'alavim. Dovi Steinmetz, 21, lived in Montreal, Canada.
Among the other young victims were Yosef Yehuda Levi,17, of Rekhasim; Pinchas Menachem Knoblowitz, 22, from the USA; Yosef Mastorov, 18, of Ramle; Yosef Greenbaum, 22, of Haifa; Yishai Mualam, 17, of Rekhasim; and Chaim Rak, 18, of Beit Shemesh; Shlomo Zalman Leibovitch, 19, of Tzfat; and Ariel Achdut, 20, of Jerusalem.
Elazar Gefner, 52, of Jerusalem; Elkana Shiloh, 28, of Jerusalem; Chen Doron, 41, was a resident of Holon's Tel Giborim neighborhood; and Yisrael Alnekave 24, of Beit Shemesh, also died in the disaster. Moshe Tzarfati, a 65-year-old resident of Jerusalem, is survived by four children and 25 grandchildren. Mordechai Yoel Paketeh, a 24-year-old father of two and a Satmar hasid, was also among the victims.
Yosef Kahn of Cleveland, who was studying in the Mir Yeshiva in Jerusalem, and Moshe Bergman of Manchester, England, were among some of the last to be identified.
According to the Abu Kabir Forensic Institute, the process of identifying and releasing the bodies is nearing completion. So far, 42 bodies have been identified. Thirty-four have been released for burial, and just three have not yet been positively identified.
"The process is conducted in cooperation with the families," the Institute said. "We believe that the entire process will be completed in the coming hours."
צילום: ירון בלושטיין/TPS
צילום: ירון בלושטיין/TPS
צילום: ירון בלושטיין/TPS
צילום: ירון בלושטיין/TPS
צילום: ירון בלושטיין/TPS
צילום: מעיין ברבי/TPS
credit: איחוד הצלה
credit: איחוד הצלה
credit: איחוד הצלה
credit: איחוד הצלה
המפכ