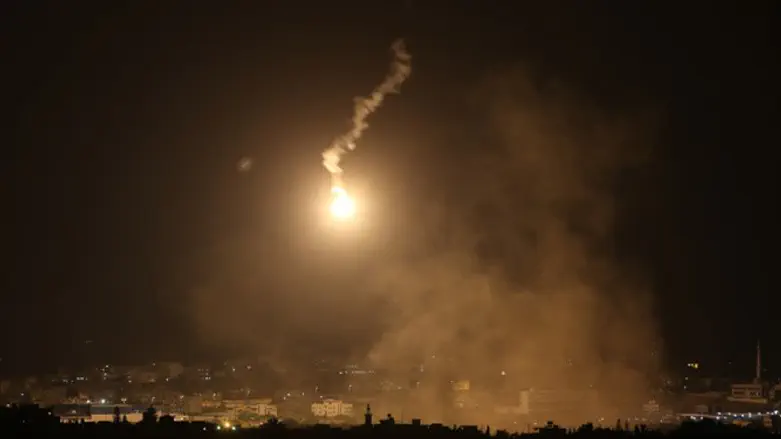 Rocket fire (illustrative)
Nati Shohat/Flash90
Air raid sirens sounded in Sderot and other Jewish communities on the Gaza border just prior to 9:00p.m. Saturday night, and again in Nirim at 10:28p.m. Saturday night.
In a statement, the IDF said that one missile was identified as having been fired from Gaza into Israel, and it was intercepted by IDF forces.
According to reports, the rocket fired at 10:28p.m. towards Nirim fell within Gaza.
Just after 11:30p.m., Gazan terrorists launched another missile, which fell within Gaza. According to an IDF statement, one missile launched from Gaza fell within Gaza, and as a result, air raid sirens sounded only on the app and in open areas.
On Friday, thirty-six rockets were fired from Gaza towards southern Israel. IDF soldiers manning the Iron Dome missile defense system intercepted six rockets aimed at populated areas.
Israeli Ambassador to the US and United Nations Gilad Erdan responded: "As Hamas terrorists continue to fire rockets at innocent civilians - including children - the international community must join the United States in unequivocally condemning these attacks. My heart goes out to all the families in Israel who are suffering from heavy rocket fire."