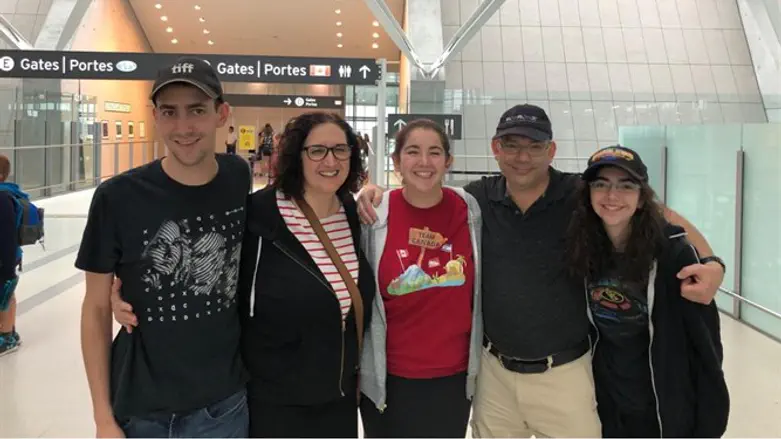 Students Continue to Flock to Naale Elite Academy, COVID or Not
צילום: NAALE
The COVID-19 lockdowns have upended the lives of the global population, especially children and teens, many of whom have had studies disrupted and their plans for the future put on hold.
A gratifying exception is the Naale Elite Academy, a joint program of the Israeli Ministry of Education and the Jewish Agency for Israel, which provides high school education and dorm facilities in Israel for Jewish teens from all over the world, free of charge. This past September, the Naale students at the various campuses across Israel started the school year with a plan in place for COVID, strictly adhering to Ministry of Health instructions, but with sufficient flexibility so that the students could complete their coursework and also take full advantage of their time in Israel.
Shoshana Becker, Naale's Director of the Western World Region, points out that "the great thing about going to Naale during corona is that you're with all your friends, instead of being stuck at home with just the nuclear family."
Galit Collins of Toronto, Canada, now in 11th-grade student at the Amana religious girls' school, arrived at the beginning of 10th grade. She relates that the first few weeks were a bit of a "culture shock." And although she knew some Hebrew from day school, "not being fluent in the language was hard."
It didn't take long, though, before Galit began to feel comfortable and at home. "I was really happy to be at Amana, and I made friends really fast. It was awesome having friends from all over: Europe, Asia, Africa… The fact that we were all going through the same things together made it a lot easier."
Facilitating her acclimation, according to Galit, was Naale's dedicated support team, which she describes as "caring and kind," and "who genuinely care about you." The staff at Amana, which includes a counselor as well as a house mother, constantly tend to the girls' well-being, and as Galit said, "There are so many people who are always looking out for you, you never feel alone!"
Galit's mother Elite, herself born in Israel, was excited to give her daughter this unique opportunity to study in Israel. But the Collinses wanted to make doubly sure that Galit would be happy there, and so, before finalizing all the arrangements Galit and her father traveled to Israel to visit the Amana campus. "The first thing that struck me was the great atmosphere," Galit shares. "The girls were listening to music outside (we'd left the snow behind in Canada, and here the campus was so green with fruit trees!) and everyone looked so happy. When I toured the classes, the girls were really welcoming."
The warmth and feeling of belonging are woven into every aspect of Naale's program, all the way down to COVID protocols. Last year, after the coronavirus erupted, many students returned home, and Galit and her newfound friends kept up via Zoom. After the summer vacation, when they came back in September, Galit didn't need to be in quarantine (since Canada was then a "green" country), but since many of her friends did, she and the local Amana students tried to keep them company, speaking to them from afar and holding events like kabalat Shabbat outside their windows so that they wouldn't feel isolated and would have some human contact.
Galit adds that "during and in between lockdowns, the teachers made an effort to come and teach in person. Because we couldn't leave the campus, the staff made sure we had fun activities at school. That made all the difference for us."
Galit describes how taken aback she was at the close student-teacher relationship at Naale. "I love it that we can text the teachers when we need help with our homework; people in Israel are much more laid back and spontaneous."
Galit isn't sure yet what she'll study after high school, but what she has decided is that she wants to take part in Sherut Leumi, the National Service program. "I want to give back," she says.
~ ~ ~
Netanel Maroof, 18, is in his third and final year at the Naale program at the yeshivah in Shaalvim. Speaking from his parents' house in Great Neck, New York, where he is staying for Pesach, he expresses his joy at seeing his family, but is already looking forward to returning to yeshivah at the end of the two-week break. "I love Israel; it's my home!"
Netanel's passion to live in Israel had been ignited years ago by his teachers in elementary school. Although his family already had a long-term plan to make Aliyah, when Netanel heard from a friend of a friend about the Naale program, he was eager to join. "I attended day school, but still couldn't speak Hebrew. I felt that with Naale, I'd be able to learn the language and become immersed in Israeli culture much more easily," he explains.
When
Rabbi Joshua Maroof and his son Netanel
צילום: NAALE
l's father, Rabbi Joshua Maroof, heard from his son about Naale, he thought it was too good to be true. After investigating the details, he says, the Naale representative was extremely helpful and forthcoming.
Rabbi Maroof is extremely satisfied with the level and quality of education that Netanel received at Shaalvim, calling Naale "a once-in-a-lifetime gift for the American child, the opportunity to be educated in Israel in a healthy environment and to be able to absorb the language and the culture firsthand."
Together with friends from all over the world – Italy, Venezuela, Poland, Spain, and more - Netanel made great strides both in his studies and in his personal development. "I made very good friends and the staff was amazing. I felt totally supported by everybody."
Netanel attributes his relatively speedy and easy acclimation to his ulpan teacher. "She didn't just teach us Hebrew, she brought us into the culture. We watched movies, listened to music, ate the food and also learned a lot of slang. Even in the first year, we interacted a lot with Israelis, and that was really good for us."
Having Netanel dorming in Israel during COVID was an optimal solution as far as Rabbi Maroof was concerned. "Our entire household was home-schooled this year, because we didn't want to risk any exposure. We were thrilled that Netanel was safe in Shaalvim and that he got vaccinated."
Netanel enjoys the best of all worlds; his family will be making Aliyah just in time for his graduation. "We thought our Aliyah wouldn't take place before at least another two years, but things fell into place and we're really looking forward to joining Netanel," said Rabbi Maroof who is one of the rabbis of the Persian community in Great Neck. He and his wife Elana plan to join a new community in Carme Gat.
Shoshana Becker highly recommends Naale for families planning Aliyah. "The children get a head start with the language and studies, receiving all the support they need — and they have their families where they can go for Shabbat and holidays." Becker quotes experts who state that when making Aliyah, the teens in the family often have the hardest time finding their place and adapting to the new culture. "Naale certainly facilitates what can be a fraught and frustrating process," she said.
For more information please visit https://www.naale-elite-academy.com/