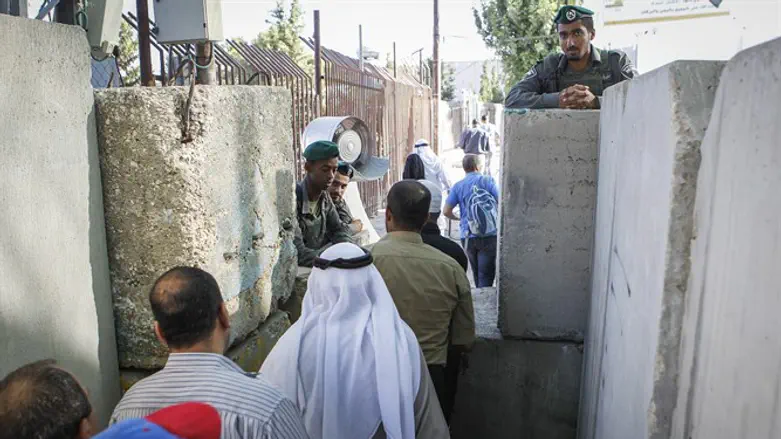 checkpoint (illustration)
Wisam Hashlamoun/Flash90
The governor of Jenin, who possesses a permanent entry permit to Israel, arrived in Baqa al-Gharbiya Sunday and presented a certificate of appreciation to Rushdi Hamdan Abu Mukh, the terrorist who murdered IDF soldier Moshe Tamam in 1984. Abu Mukh was released from prison last week.
The governor took advantage of the permanent permit granted to him by COGAT, which relies on a Shin Bet opinion that a senior Palestinian Authority official can move freely within the State of Israel without posing a security risk.
Former Minister Ayoub Kara responded to the visit: "I strongly condemn the visit of the Jenin governor who came from the Palestinian Authority to the home of terrorist Abu Mykh from Baqa al-Gharbiya, and of course also the award of his certificate of appreciation to theis human 'monster' who murdered in cold blood an Israeli. The Defense Minister must immediately revoke the certificate of transfer from the governor so that the cynical exploitation of Israeli good faith will cease."
The East Jerusalem Development Company stated: "We call for the governor's VIP certificate to be revoked immediately. The visit joins the ongoing incitement against Israel in the Palestinian Authority, and a clear response is required, only a complete boycott by the Israeli establishment will send a clear diplomatic message, although the best action for Israeli security would be the closure of the PA and the restoration of Israeli sovereignty to all parts of Judea and Samaria."