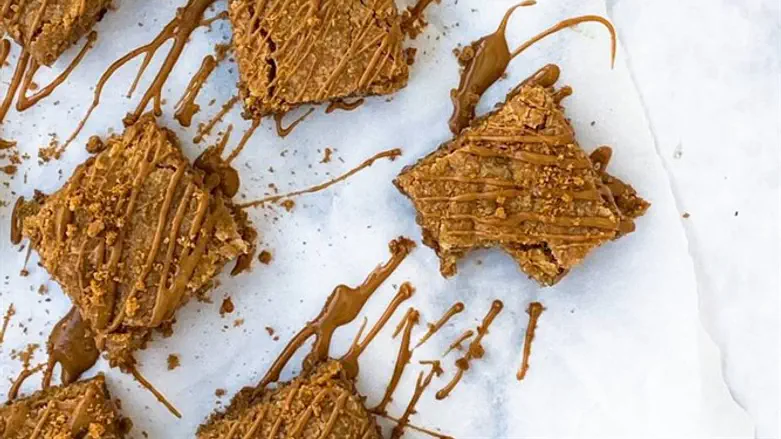 Lotus Blondies
Erin Grunstein / Kosher.com
Ingredients:
2/3 cup neutral oil (such as vegetable or Gefen Canola)
1 cup brown sugar
1/2 tablespoon vanilla extract
2 eggs
1/2 cup lotus butter, plus 2 tablespoons to drizzle if desired
2 cups flour
1 teaspoon baking powder
1/2 teaspoon baking soda
1/2 teaspoon salt
1 teaspoon Gefen Cinnamon
1 tablespoon cornstarch
2.8 ounces Gefen Instant Vanilla Pudding powder
crushed lotus cookies, to sprinkle on top (optional)
Prepare the Blondies
Preheat oven to 350 degrees Fahrenheit. Grease a nine-inch square pan and set aside.
In a bowl, mix together oil, sugar, vanilla, and eggs until well incorporated.
Microwave half a cup of lotus butter for 20 seconds. Add to the bowl the softened lotus butter, flour, baking powder, baking soda, salt, cinnamon, cornstarch, and pudding powder. Mix until everything is combined.
Press batter into prepared pan. Bake 25 to 30 minutes.
Cut into squares. If desired, drizzle with additional (softened) lotus butter and sprinkle with crushed lotus cookies.
Variation: You can also add chocolate chips to the batter.