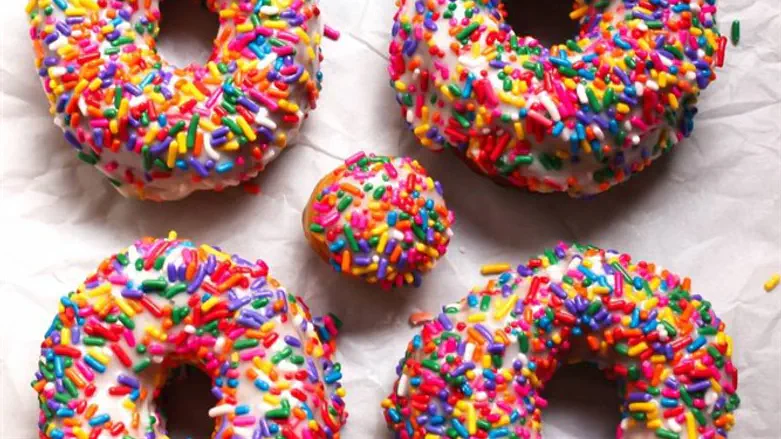 Easy Fried Biscuit Donuts
Samantha Tehrani / Kosher.com
Ingredients:
canola oil, for frying
1 can refrigerated biscuits
2 cups powdered sugar such as Gefen
3–4 tablespoons milk or water
sprinkles
Prepare the Donuts
Heat two inches of canola oil in a large pot over medium heat, until the oil reaches 350 degrees Fahrenheit.
While the oil is heating, separate the biscuits onto a cutting board. Using a small cookie cutter, cut the center out of each biscuit to create a donut shape.
Working in batches, add the donuts and donut holes to the heated oil, frying for one to two minutes on each side until golden brown. Remove to a cooling rack and repeat until all the donuts are fried.
To make the glaze, mix together the powdered sugar and three tablespoons milk in a medium bowl, using a fork to smooth any lumps. You want a very thick but still pourable consistency, so add powdered sugar or milk as needed to achieve the desired thickness.
Pour the sprinkles into a second bowl. Dip the top of each donut into the glaze, swirling to coat and then letting any excess glaze drip back into the bowl. Immediately dip into the sprinkles. Serve warm and enjoy!
Tip:
If you don't own a small cookie cutter you can use the opening of a baby bottle! Look around your kitchen and you're sure to find something that works.