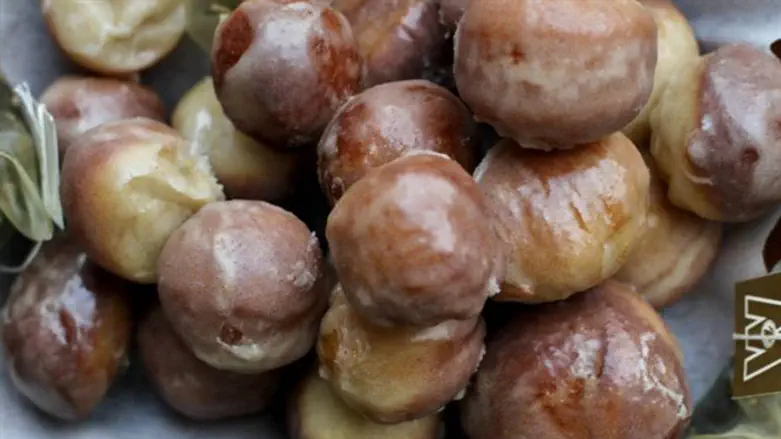 Pumpkin Chai Spiced Donut Poppers
Estelle Chait / Kosher.com
Ingredients (17)
Donut
1/4 cupWissotsky Pumpkin Chai Tea concentrate
2 cardamom pods (if you don't have these you can use star anise or omit it)
2 and 1/4 teaspoons instant dry yeast such as Gefen
1/4 cup plus 1/2 teaspoon white sugar, divided
1/2 cup milk
1 egg
3 tablespoons canola oil
1/4 teaspoon vanilla extract
2 and 3/4 cups sifted white flour
1/2 teaspoon salt
1 teaspoonGefen Cinnamon
1/4 teaspoon ground cardamom
Glaze
2 cups powdered sugar such as Gefen
2 tablespoons chai tea concentrate
2-4 teaspoons milk
1/8 teaspoon cinnamon
pinch of ground cardamom
Prepare the Donuts
To make the tea concentrate, steep one Wissotsky Pumpkin Chai tea bag in 1/2 cup boiling water and add the cardamom pods. Let the concentrate cool till it is warm before adding it to the yeast. (You'll use 1/4 cup for the dough- set the rest aside. I steep the tea in a measuring cup with a spout for easy pouring.)
In the bowl of a stand mixer, combine yeast, 1/2 teaspoon sugar and 1/4 cup of tea concentrate. Mix. Let sit until frothy and bubbly, about 10 minutes. Add remaining 1/4 cup sugar, milk, egg, oil,and vanilla extract. Mix till frothy.
In a separate bowl, whisk together two cups of flour, salt, cinamon, and ground cardamom. With the mixer on low, add slowly to the wet ingredients until fully combined. Slowly add the last 3/4 cup flour.
Flour your work surface generously with flour, turn out the dough and knead for two minutes, until the dough is smooth. This extra flour should be enough to turn the dough from sticky to soft, but add a sprinkle more if needed. Oil a bowl, add the dough, cover it, and let rest for an hour at room temperature.
Sprinkle the work surface again lightly with flour, turn out the dough once more and roll it out to 1/2-inch thickness. Cut out small donut holes with a cookie cutter or other sharp object in the kitchen (a shotglass?!). You can choose to make them bite-sized or a little larger. Place on a baking sheet fitted with parchment paper, cover, and let rest for 30 minutes.
Heat oil in a small frying pan. When hot, carefully add in the donut holes, a few at a time so you don't crowd the oil (which lowers the temperature). Fry until golden, flip, and fry the second side. They shouldn't take longer than a minute and a half. Cool on a cooling rack or paper towels and dip in glaze. Let glaze harden before enjoying!
Prepare the Glaze
Combine powdered sugar, spices, chai tea concentrate, and two teaspoons of milk in a small bowl.
Whisk with a fork until smooth. If the glaze is a bit thick, add a teaspoon of milk at a time until it reaches the right consistency. It shouldn't be runny but thick enough to roll the donuts in.