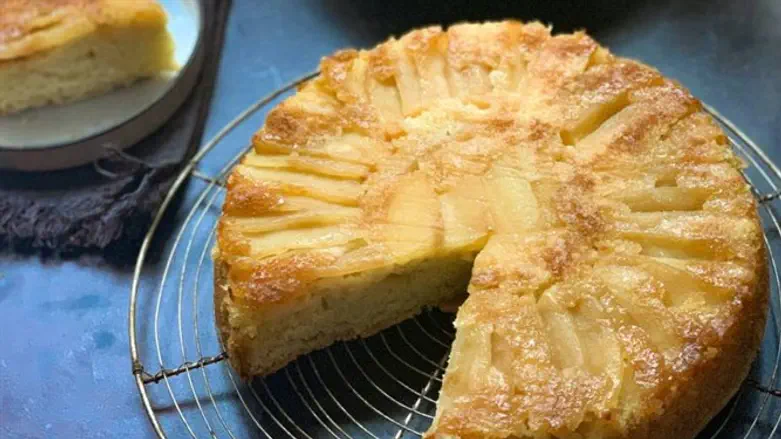 Apple and Almond Olive Oil Cake
Paula Shoyer / Kosher.com
Main ingredients
Prepare the Cake:
Serves 8 to 12
Preheat oven to 350 degrees Fahrenheit. Place a nine-inch round pan on top of Gefen Easy Baking Parchment Paper, trace the bottom and then cut out the circle. Scoop out one teaspoon of the olive oil from the 1/2 cup and pour into the pan. Use a pastry brush to grease the bottom and sides of the pan. Press in the parchment circle.
Add the two tablespoons of olive oil to the pan and spread around. Sprinkle the brown sugar on top and use the pastry brush to spread. Place into the preheating oven for two minutes to partially melt the brown sugar.
Place the apple slices, overlapping, in concentric circles to cover the bottom of the pan, starting with the outer edge. Use up all of the slices. Place any remaining slices on top of the first layer of apples.
In a large bowl, beat the sugar, eggs, and olive oil for about one minute at medium speed until creamy. Add the flour, ground almonds, baking powder, salt, and almond extract and beat until combined and smooth. Pour the mixture over the apples.
Bake for 35 minutes, or until a skewer inserted in the middle of the cake comes out clean.
Let the cake cool in the pan for 20 minutes and then run a knife around the sides. Turn the cake onto a wire rack and let it cool. Serve the cake apple side up.