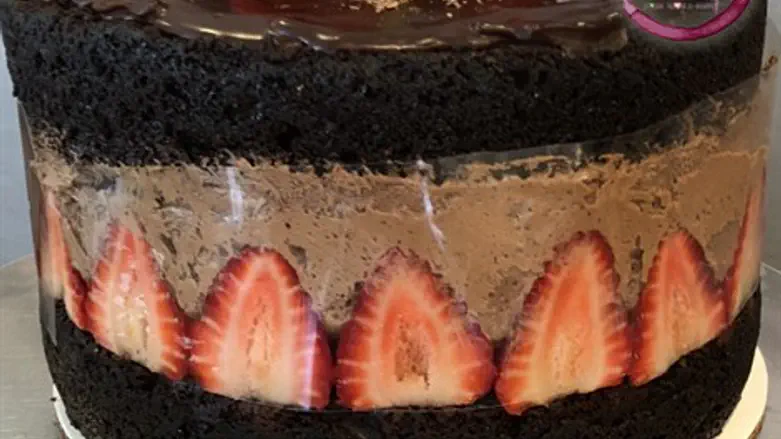 Chocolate Mousse
Kosher.com
A moist and delectable chocolatCakee layer cake elegant enough for your holiday meals. From Kosher.com
Ingredients (15)
4 eggs
1 and 1/2 cups sugar
1 cup oil
1 teaspoon vanilla sugar
pinch of coffee
3/4 cup potato starch
1/2 cup Gefen Cocoa
1 teaspoon baking soda
1/2 teaspoon white vinegar
Eggless Chocolate Mousse
1 16 ounce carton Kineret Non-Dairy Whipped Topping
2 teaspoons coffee dissolved in 1/4 cup water
1 (9 ounce) bag Gefen Chocolate Chips
Ganache
4 ounce Kineret Non-Dairy Whipped Topping
4 ounces chocolate
Garnish
1 package strawberries
Prepare the Cake
Combine all ingredients in a separate bowl. Add to cake mix.
Bake at 350°F for 30 to 35 minutes (or until fully baked) in two nine-inch round pans.
Prepare the Mousse
Melt chocolate with coffee in microwave at 20-second intervals.
Once chocolate-coffee mixture is fully melted, add the whipped topping half a cup at a time.
Prepare the Ganache
Heat whipped topping in microwave and combine with chocolate until it forms a ganache.
Refrigerate to thicken.
To Assemble
Place one cake onto a cake round and surround with a strip of acetate. Tape to secure.
Halve strawberries and line around the perimeter of the cake, cut size forward. Add the imperfect diced strawberries to the center of the cake.
Pipe or spoon mousse on top of the berries, getting in between the crevices of the berries.
Smooth out the top of the mousse, and lastly, pour over the thickened ganache to top of the mousse, garnishing with berries and mint.