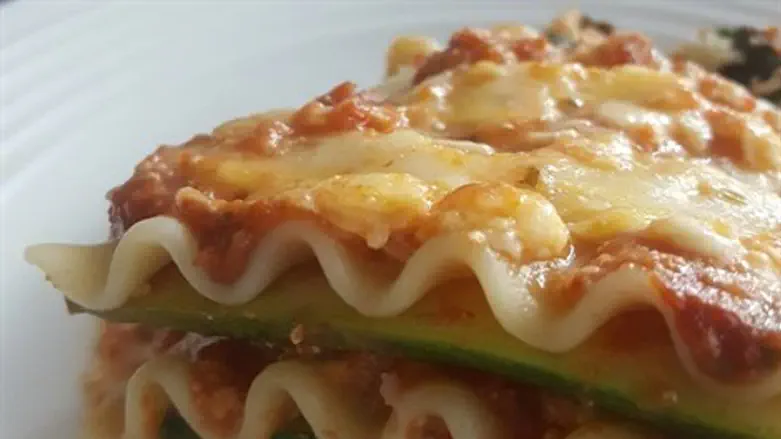 Kosher for Passover Lasagna
Kosher.com
Some of us feel like we can't go a whole week without pasta and cheese. This kosher for Pesach lasagna will really hit the spot. Using gluten free noodles and zucchini for an added health benefit, this is definitely going to become a Passover family favorite. From Kosher.com
Main ingredients
1 cup frozen or 2 cups fresh chopped spinach
1 pound ricotta cheese
1 egg
salt, to taste
pepper, to taste
3 cups  Gefen Tomato Sauce
2–3 tablespoons pesto (I use the store-bought)
1 teaspoon garlic powder
3 medium zucchini sliced lengthwise in 1/4-inch slices
1 cup shredded cheese (I like mozarella and cheddar mix)
10-12 prepared Gefen Gluten-Free Lasagna Noodles
Prepare the Lasagna
Preheat oven to 350 degrees Fahrenheit.
If using frozen spinach squeeze all the liquid out of the frozen spinach. This can be done with cheesecloth or simply using a strainer.
Combine spinach, ricotta, egg and salt and pepper.
In a separate bowl mix, tomato sauce, pesto , garlic powder, salt and pepper.
In a 9- x 13-inch lasagna baking pan begin layering zucchini, lasagna noodles, sauce and ricotta mixture, continue until all ingredients are used up, saving the shredded cheese for the top.
Sprinkle the top of the lasagna with shredded cheese.
Bake uncovered for 30-40 minutes or until cheese on top is melted and bubbling.