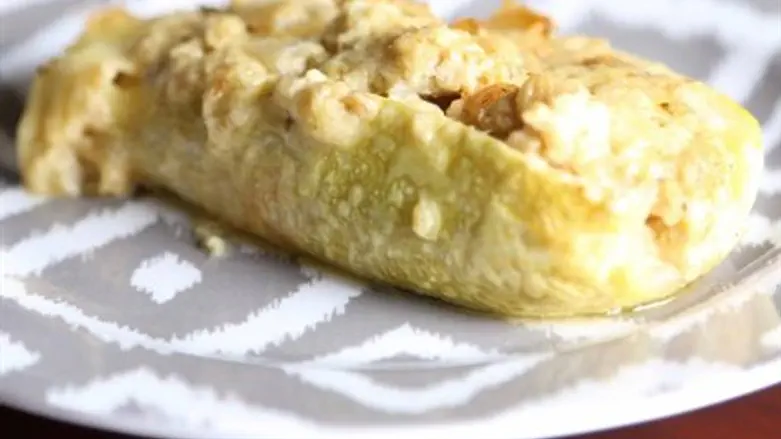 Stuffed Zuchini
Kosher.com
Main ingredients
4 slices white bread
1 cup milk
6 small zucchini
1 large onion, chopped
3 tablespoons fresh parsley stems, chopped
4 ounces cream cheese
1 cup grated cheese
2 eggs
1/4 teaspoon salt
1/4 teaspoon white pepper
Prepare the Stuffed Zucchini
1)Soak bread in milk and set aside.
2)Cut zucchini in half lengthwise. Place in pan with boiling, salted water to cover zucchini. Cook for 15 minutes or until tender. Drain and dry with paper towels. Cool.
3)Gently remove pulp, being careful to leave some flesh intact to hold the stuffing.
4)Sauté onion and parsley in oil.
5)Squeeze bread and mash with zucchini pulp and cream cheese.  Add all remaining ingredients, mixing well.
6)Grease 9- x 13-inch baking pan. Fill zucchini shells with stuffing mixture and place into pan. Sprinkle a little oil over zucchini and bake for 30 minutes.