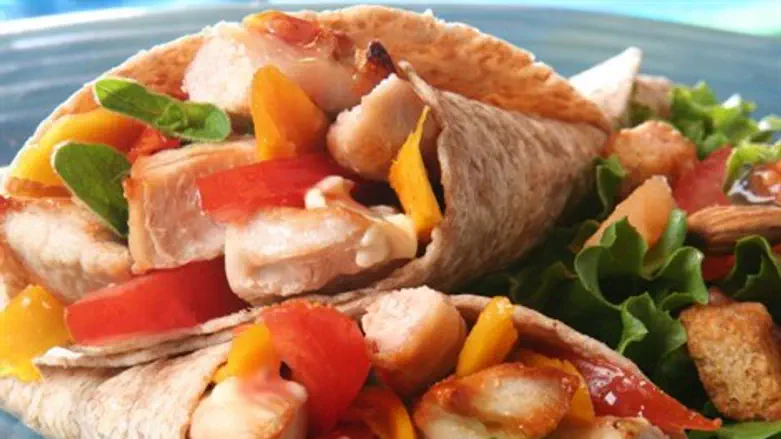 Fajitas
Kosher.com
Ingredients: 
1 tablespoon canola oil
1 pound boneless, skinless chicken breast, cut into strips
1 green bell pepper, cut into strips
1 red bell pepper, cut into strips
1 small red onion, sliced
1/4 teaspoon salt
1/4 teaspoon ground black pepper (optional)
1 tomato, sliced
1 chopped or sliced jalapeño pepper
6 whole wheat tortillas (10-inch diameter), heated
shredded lettuce
sliced scallions (optional)
sliced cucumber (optional)
Preparing the Fajitas:
1)In a large nonstick skillet warm the oil over medium heat. Add the chicken. Cook, stirring occasionally, for about five minutes, or until lightly browned. Test that the juices run clear and no pink remains.
2)Add the bell peppers, onion, salt, and black pepper. Cook, tossing frequently, for about four minutes longer, or until the bell peppers are crisp-tender.
3)Add the tomato and chili pepper. Cook for one minute more, or until just heated through. 
4) Open up the tortilla, spread chicken mixture over shredded lettuce and add sliced scallions and cucumber. Wrap tortilla in silver foil and warm up in the oven or on the grill for five minutes for a delicious all-in-one meal.