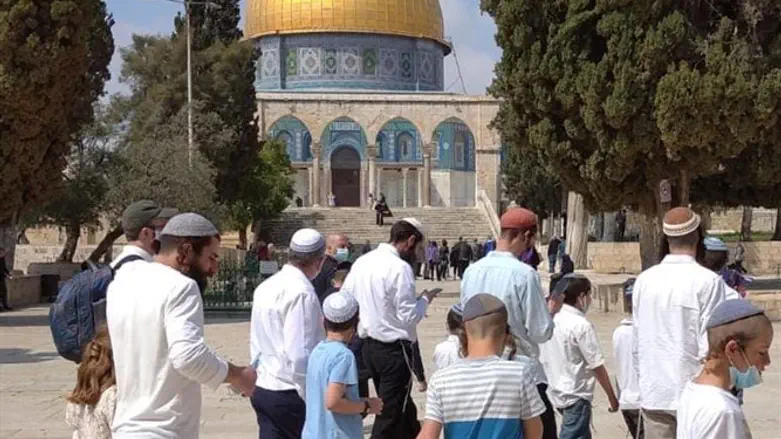 Jews on the Temple Mount
צילום: חיים קרויזר, מטה ארגוני המקדש
The official news agency of the Palestinian Authority, Wafa, continues to report visits by Jews to the Temple Mount as "provocations" against Islam and Muslims.
"Today, Wednesday, settlers stormed the courtyards of the blessed Al-Aqsa Mosque, under the strict security of the Israeli occupation police," Wafa reported Wednesday in response to the visit of Jews to the Temple Mount for the Passover holiday. "The public relations and communications official at the Jerusalem endowment department, Firas Aldibes, told Wafa that 309 settlers have stormed the al-Aqsa plaza (mosque) since the morning from al-Mugrabi Gate, and they conducted provocative tours of the plaza before leaving through the Chain Gate."
Wafa also said that "it is worth noting that 1,322 settlers stormed the al-Aqsa Mosque during the last four days, in parallel with the Jewish Passover holiday, which will last until this Saturday evening."
1,200 Jews visited the Temple Mount in the first days of Passover, double the number of Jews who ascended the mount in the corresponding days during the last Passover when the Temple Mount was open.