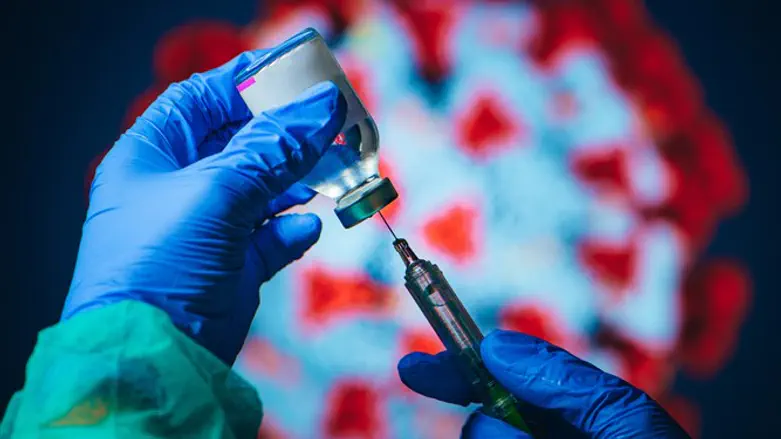 COVID-19 vaccine
iStock
COVID antibody levels decline significantly two months after injection of the second dose of the coronavirus vaccine, a new study shows.
According to a study which focused on staff members at Sheba Medical Center in Tel HaShomer, Ramat Gan in central Israel, serum antibody levels appeared to drop off roughly two months after the second dose of the Pfizer vaccine, potentially raising questions about the long-term efficacy of the vaccine and the possibility that additional doses may be required to maintain immunity.
But some experts say the study is not necessarily cause for alarm, noting that similar declines are observed with antibodies for other viruses, and that antibodies make up only part of the body's immune system.
"Antibody levels aren't the only indicator of the level of immunity," said Dr. Orly Greenfield, the outgoing medical director for the Magen Israel program.
In an interview with according to Channel 12, Dr. Greenfield said the long-term effectiveness of the vaccine remains unknown, but added that there is no reason to believe the decline in antibodies indicates a loss of immunity.
"We still don't know how effective the vaccine is, but we do know that as is the case with other vaccines, sometimes there is a drop in the quantity of antibodies after a certain period."
While antibodies have received much attention in public discussions of the COVID vaccine, they make up only one part of the immune system, Greenfield emphasized.
"The body's immune system is made up of multiple things – there are antibodies but also cell-mediated immunity; that is, cells which envelope viruses. That remains for the long-term. So these things still need to be studied, and we're constantly following up and checking."
"It is possible that while the antibody levels fall, we still have full immunity, like we had before."
Prof. Arnon Afek, deputy chief of Sheba Medical Center, echoed Dr. Greenfield's comments, saying the new study is not cause for concern.
"I think people need to remain calm," said Afek, adding that hospital officials will continue to study the long-term effectiveness of the vaccine.
Previous studies of people who developed immunity following natural infection – that is, exposure to the virus and without the vaccine – have found that immunity remains even after antibody levels decline.
One study, conducted in Israel, found no connection between measurable serum levels of COVID antibodies and reinfection rates.
An earlier study, conducted in Qatar, tracked 43,044 people for up to 35 weeks, and found that just 0.02% experienced reinfection, suggesting that natural infection creates a high level of immunity for an extended period of time.