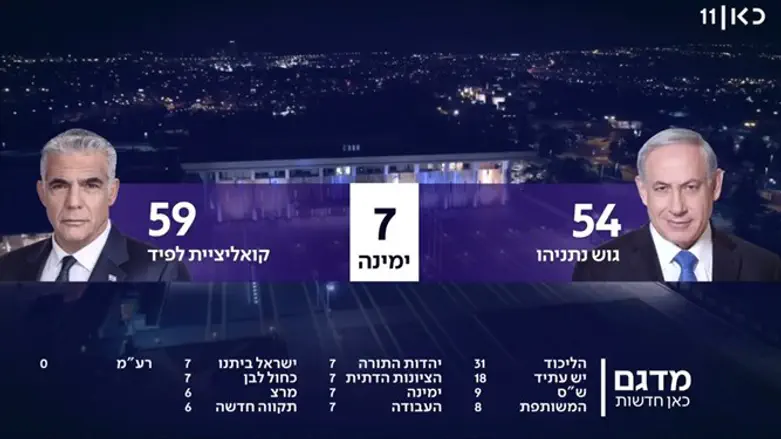 Kan 11 exit poll
Kan 11
According to the exit poll conducted by Mano Geva of the Midgam Institute for Channel 12 News, the bloc of parties supporting Prime Minister Binyamin Netanyahu, together with Yamina, has 59 seats, but at this stage it is still too early to determine whether Netanyahu will indeed be the next Prime Minister.
The results of the Channel 12 News exit poll are: The Likud with 30 seats, Yesh Atid with 18, Shas with 9, the Joint List - 10, Yamina - 7, Blue and White - 7, Labor - 7, Religious Zionism - 7, Yisrael Beytenu led by Avigdor Liberman - 5, United Judaism Torah - 6, New Hope - 6, Meretz - 7.
The exit poll conducted by Prof. Camil Fuchs for Channel 13 News shows that the Likud wins 31 seats. Yesh Atid currently only has 17. Shas has 9 seats, followed by the Joint List and Blue and White with eight seats each, while Yisrael Beytenu, Meretz, Labor, United Torah Judaism and Yamina receive seven seats each. Religious Zionism has six seats and New Hope has six as well.
Kan 11 News' exit poll finds that the Likud led by Prime Minister Binyamin Netanyahu wins 31 seats. Yesh Atid has 18 seats. Shas wins 9 seats, and the Joint List wins 8 seats.
Yamina wins 7 seats, as do Blue and White, Labor, United Torah Judaism, Religious Zionism and Yisrael Beytenu. New Hope wins 6 seats, as does Meretz. Mansour Abbas' Ra'am party does not pass the electoral threshold.