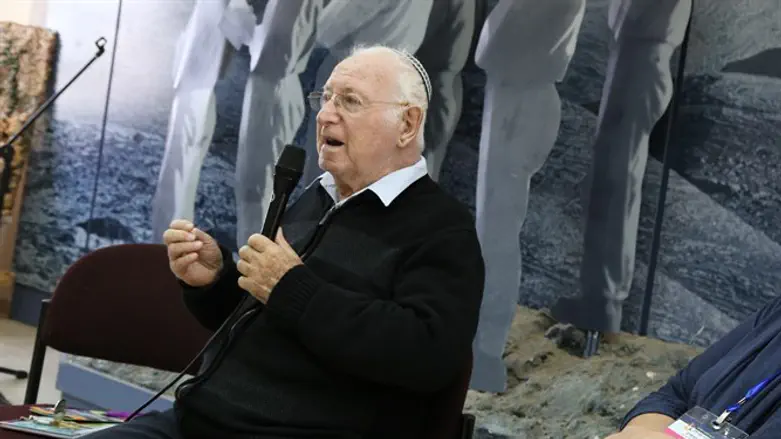 Moshko
Gershon Elinson/Flash90
Interview conducted with "Moshko" - as everyone called him - in July, 1990, in honor of 20 years to the founding of Alon Shvut, and published in the local Efrat newspaper, "Efrat Profile," edited by Neta Ariel. translated by the writer. The additions in brackets were added now. - TKG
Moshko was also the founder of Efrat, and invited Rabbi Riskin to join him.
"When we went up to settle Gush Etzion in 1945," says Moshe Moshkovitz, known as 'Moshko,' "the bureaucrats said to us, 'It suits you! You are religious, and this is a place between Jerusalem and Hebron, and the people who live here – they live a long life. People who live in the mountains have a strong character. One sees how they become connected to a place.' And indeed," said Moshko, "Mountain people have ups and downs. The character of the place dives deep into a person's soul."
Moshko, born in Czechoslovakia [in 1925], who came to Israel with his family at the age of ten, studied in "Mikveh Yisrael" [an agricultural school], and went up to Gush Etzion in 1945 with the first "garin" [group] that founded Masuot Yitzhak, did not allow his soul to forget his friends who fell in the battle for Gush Etzion [the Etzion Bloc] in 1948.
At the time of the fall of Gush Etzion, Moshko was – "by the grace of Heaven," as he says – on a national mission to Cyprus. There he was involved in the operations of the "Ha'apala" [the bringing of Jews to Israel by boat, in defiance of the British refusal to let them enter]. His wife and infant daughter were evacuated from Gush Etzion before it fell. Moshko returned home from Cyprus and helped prepare the replacement community, Masuot Yitzhak, down south, for his friends who would return from captivity in Jordan.
For 27 years Moshko was the head of the local municipality Shafir; there he founded 14 communities and many educational endeavors that were, in their time, ground-breaking. He talks about Shafir, but says that his heart never forgot Gush Etzion.
"There is no other example of longing, yearning and desire to return like there was for Gush Etzion," he says...

"There is no other example of longing, yearning and desire to return like there was for Gush Etzion," he says, and shows me two pages from his diary from June, 1967, the 28th of Iyar, 5727. He had forgotten about the content of these pages until recently, when they were shown to him at his birthday party. At the top of the page is written in large letters: "The Old City of Jerusalem, may it be speedily rebuilt, and Gush Etzion and Hebron, have been liberated." Beneath those words, the subtitle was: "Recommendations and plans for the rebuilding of Gush Etzion."
Forever a man of action, four days later [after the liberation of Gush Etzion], Moshko sent a letter to Raanan Weitz, the director of the settlement division of the Jewish Agency at the time, with the details of the plans for the rebuilding of Gush Etzion.
"It was amazing to read it today! I didn't believe it!" he said, very emotional.
And what were his plans? A regional center, with agricultural settlements surrounding it, many educational institutions, including a yeshiva of higher learning, a midrasha and field school, light industry, workshops – including for ritual objects, a tourist center, a shopping center, a cultural center, a recuperation center, a youth hostel and more. Everything was meticulously recorded in the finest detail. And most important was his last comment: "The final stage: the implementation of everything described above." "I decided to dedicate myself to the rebuilding of Gush Etzion," he says, "I felt that we owe this to those who fell and to ourselves. We wanted a reestablishment of this beautiful area."
Were there difficulties along the way?
"It wasn't easy. There were friends who said: 'Listen, 19 years have passed. We've built our homes and our families. That was a short episode in our lives. We don't want to live in the shadow of the past.'"
Were there other difficulties?
"Absolutely. Before the Six Day War there was an atmosphere of despair in the country. Then the war broke out and, following it, there was an atmosphere of euphoria, of 'paamonei haMashiah' [the bells announcing the coming of the Messiah]. I was afraid that this euphoria would morph into paralyzing shock. I didn't realize then how right I was. The reality was much worse. The paralyzing shock caused us to feel as if we had won the lottery. We didn't know what to do with it. There were some who said: 'We'll hold on to it for now, maybe we'll give it back.' Others said: 'Now a million Jews will come from America, and then…'
"Neither of those two scenarios occurred. The spirit ended with a small voice. I didn't know then that the word 'settlement' would take on a negative connotation. I saw that there is an opportunity that we should not miss. I feared that we will remain in the domain of big, beautiful words and we would not progress to the stage of action.
"When I came to the official settlement organizations with the idea of creating a regional center of the type we created in the Shapira Center [Mercaz Shapira], they asked, 'Which one? There is nothing there!' 'I want that it will be the impetus to settlement, and it will draw many Jews to it,' I said. One of the reasons for the fall of Gush Etzion was that there were not enough Jews living in the area."
But Moshko did not neglect his vision. "I knew that I would not leave Masuot Yitzhak. But I did everything in my power [to enact my plans]." He wrote letters, organized meetings, planned and convinced all the powers-that-be to carry out his plans. He was the only one who offered a practical plan. He created the Alon Shvut Association in 1970, and the Hevra l'Pituah of Harei Yehuda [Development Company of the Judean Hills] in 1975, and has headed it ever since.
In that capacity he was also the founder and first 'mayor' of Efrat. He remembers fondly Zahava Ben Ze'ev, who was the CEO of the Hevra l'Pituah and an active partner since its founding. After the children of Kfar Etzion returned to their destroyed homes, Moshko pushed for the creation of Alon Shvut, and
Moshko pushed for the creation of Alon Shvut, and here he innovated a number of things. "This was the first instance in which a yeshiva created a settlement."

here he innovated a number of things. "This was the first instance in which a yeshiva created a settlement."
He also created a new model of settlement, the community settlement. With this was born the idea of ''B'nei betcha" ['build your home']. Alon Shvut was the first settlement in which the residents used their own money in the building of the homes. [Unlike previous settlements, such as kibbutzim.]
Moshko smiles at me. "Yes, I know that you come from a capitalist country." As a veteran settlement person, he doesn't deny that there is something positive about people paying for their homes out of their own pockets.
Today Moshko is the chairperson of the Hevra l'Pituah of Harei Yehuda, and the chairperson of Yeshivat "Har Etzion." About the yeshiva, a beloved project of his, he says, "This is the jewel in the crown. In Yeshivat Har Etzion I see the creation of the leadership of the next generation of religious Zionism." And, in general, "The greatest thing that we can do is our educational endeavors. What do we have to offer? Only air, atmosphere and a connection to the past. One can from these generate an educational industry. We can contribute to national and international educational institutions."
How do you view Gush Etzion today?
"I count myself among those for whom the reality surpassed their dreams…I am a happy person. My work is my hobby. I get up in the morning to work because I love what I do and I want to fulfil my dream."
Not all of Moshko's dreams came to fruition. He dreamed that the Gush would be an effervescent tourist area. He dreamed that there would be a high school for all the residents of the area. [Many more high schools were created since this interview, that answer most of the needs of the youth of Gush Etzion.] He dreamed that that the project "Am Olam" would be in Gush Etzion, and not in Emek Ha'ela [the Elah Valley], as is now planned. He dreamed of a Jewish educational industry for the whole world – a plan that did not materialize. He had plans for the settlement of Elazar, that did not happen right away, and more. [Elazar, since this interview, has blossomed into a booming community.]
Did you not also dream that Efrat would be an open city?
Yes, and he is disappointed from this perspective. "Alon Shvut was built intentionally as a closed religious community, but Efrat was planned as a city in which the religious community would lead, but that would be open to all the people of Israel. It is possible to achieve this only with a great deal of effort. The Ministry of Housing is making a mistake when it sends religious people to Efrat, haredim to Beitar [Illit] and secular Jews to Maale Adumim. Efrat needs to be the example, to lead the way. I don't know now if it can still be accomplished…" [Since this interview, Efrat has become a more "open" community, by Moshko's definition.]
What are your thoughts on the political situation today?
"There can be no ultimate, clear-cut solution between us and the Arabs. Begin erred when he gave up the entire Sinai. He should have offered interim solutions, for example, half of Sinai. It's a mistake to speak in black and white terms. The relationships between the Arabs and us are complex…We need to create points [of settlement] quietly, and to believe in the justice of our cause.
"Gush Etzion was and can continue to be an example of cooperation with everyone, including with the
"The world is divided into two kinds of people – those who speak about history and those who make history. May we choose to be among the second kind."

Arabs. So what does one do?" he asked with irony. "So we join with people with strength. Another settlement in Gush Etzion, another neighborhood in Efrat, are better than a thousand speeches. The world is divided into two kinds of people – those who speak about history and those who make history. May we choose to be among the second kind."
What's next?
Moshko is now planning "Park Etziona" in Emek Ha'ela, near Gush Etzion, that will include a spectacular nature area, the Mofet Research and Industrial Institute, and "Am Olam" – a Jewish center for active learning.
Meanwhile, his daily calendar is full. He is working on the "Menorah" project that is bringing, to Israel, the contents of synagogues that are being closed down in Eastern Europe and in the West, including Torah scrolls. The ritual objects of those synagogues are distributed to synagogues throughout Israel.
Moshko, the founder and first mayor of Efrat, says to the residents of Gush Etzion, with the typical optimism of a person of action: "I actually see a bright future, and an outstanding attribute for Gush Etzion: The proximity to Jerusalem and its population. Come, take advantage of your abilities. You have before you the challenge of aliya, settlement and Jewish education."
And who like Moshko knew how possibilities and intentions can become realities…


Toby Klein Greenwald is an award-winning journalist and theater director and the editor-in-chief of WholeFamily.com. She spent time in Kfar Etzion in 1967-8, lives in Efrat since 1985, and sat on the think tank of Moshko's project "Am Olam."