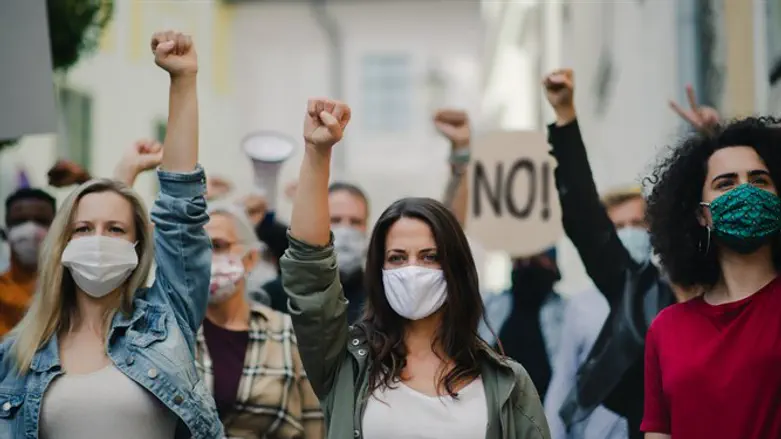 Protest
iStock
Health Ministry Coronavirus Vaccine Trial Advisory Committee Member Prof. Cyril Cohen was asked by i24NEWS to relate to polls indicating only 20% of Israelis willing to chance the new COVID-19 vaccine.
"We're seeing polls that show that the vast majority of Israelis don't want to take the vaccine out of fear that it's not safe," said the interviewer. "How does the government plan to tackle this issue?"
Prof. Cohen responded: "Three words: Information, information, and information."
Last September, hundreds of physicians, journalists, and citizens engaged an attorney to submit an official Freedom of Information Act (FOIA) request to the Health Ministry regarding various issues related to COVID-19. This, after queries by journalists representing the entire spectrum of Israeli media outlets were consistently ignored, revealing a pattern that may indicate Health Ministry avoidance of certain issues.
Earlier, the Health Ministry responded to a query by Arutz Shevato clarify information about COVID-19 morbidity and mortality, tests administered in Israel, and their methodology, accuracy, and availability. Health Ministry answered two of the six questions.
Arutz Sheva asked Professor Cohen: "Why should the public trust government statements, when Freedom of Information Act requests are ignored?"
Prof. Cohen explained that he has "no connection to these issues" and explained that the information he will be promoting and campaigning is "Information regarding the mechanism of the vaccines, its safety, the clinical trials, the experience with mRNA technology to help people reach their own decision without interference with fake news and anti vaxxers propaganda."
Microbiology and Clinical Immunology at the Faculty of Medicine at Tel Aviv University head Prof. Udi Qimron responded to Professor Cohen's words, telling Arutz Sheva: "The Common Sense Model recommends vaccinations of the populations at risk from COVID-19.
"Those at risk are recommended to keep social contacts to minimum until vaccinated. At the same time, we call to immediately stop lockdowns and restrictions."
Health Communication Lecturer at IDC Herzliya International School Dr. Yaffa Shir Raz also responded to Prof. Cohen. In conversation with Arutz Sheva, Shir Raz said: "I definitely agree with Dr. Cohen that 'information, information, information,' is the answer to the public's concerns. But in order to really deal with the concerns about the vaccine, the information presented to the public must be complete and transparent, including addressing, for example, the issue of long-term side effects, and the fact that there is uncertainty regarding this issue, due to the acceleration of research and approval procedures."
She continued: "There must be room for a balanced discussion, in which experts who express a different view from the Health Ministry's narrative will also be able to present their position, and above all, public concerns must be treated with respect, rather than attacking those who express concern or criticism and labeling them as 'anti-vaxxers'.
"A great deal of research in the field of risk communication indicates that the public wants complete, reliable, and balanced information, and that presenting information on risks, or even complex information on uncertainties, does not cause panic, as health authorities claim in many cases, but on the contrary, increases trust in authorities and experts.
"Unfortunately, the way the Health Ministry has chosen – of concealing information, silencing critical voices, and ignoring questions from journalists and the public, ignoring even the Freedom of Information Act, only increases public distrust, which has deteriorated greatly in recent months."
"Moreover," she continued: "In the age of social networks, hiding information, denying existing risks, and using dubious strategies are not an option, and they may return to the authorities like a boomerang.
"A few months before COVID-19, there was a discussion in the WHO on how to treat 'vaccine hesitancy' and resistance to vaccines. Senior World Health Organization anthropologist and immunization expert Dr. Heidi Larson explained that people who are afraid of vaccines should not be called 'anti-vaxxers', because this approach only leads to antagonism and the opposite result - of increasing the number of people who refuse or are afraid to get vaccinated. She literally called on them to stop with that.
"She said it was time to change direction - invest in new research, stop persecution, and get rid of inflammatory language. Then, she clarified, will it be possible to try to rebuild trust in the system. One of our biggest challenges is to get rid of the term 'anti-vaxxers'. Get rid of hostile language and start having more conversations. Be open to questions, make people feel they should not be judged when they ask questions."
Shir Raz concluded: "The data that Dr. Larson presents in her lecture is nothing short of amazing: The direct result of the intimidation and disqualification strategies taken by the authorities, encouraged and funded by vaccine manufacturers, is that within ten years, from 2008 to 2018, public trust in vaccine safety has plunged from 85% to about 75%, and the belief in the benefit of vaccines decreased from 75% to less than 60%.
"When parents were asked about the reasons for their hesitation to vaccinate, the leading reason - almost 3 times more any other argument - was fear for the safety of vaccines. 'Safety is the biggest fear,' Prof. Larson repeated. 'Fear of side effects'."