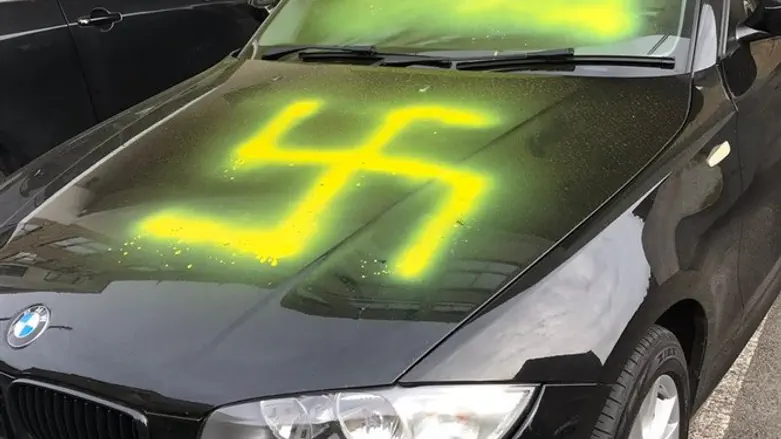 אנטישמיות ביום כיפור
צילום: bristolpost
A swastika was spray painted on the hood of a car in southwestern England Monday, during the Yom Kippur holiday.
The incident occurred in Kingswood, a small town outside of Bristol in South Gloucestershire.
Nick Bayne, a Jewish man who lives across the street from where the graffiti was found, said he was "Absolutely shocked" to see the swastika, the Bristol Post reported.
"It's awful, it's a gut punch. Me and my wife, who is the granddaughter of Holocaust survivor, feel anxious about this - it was right next door to where we live."
"We used to feel it was quite a safe neighborhood. It has put us on edge."
"It's a sign that people are starting to feel empowered enough to do something like this. It's absolutely shocking - a giant symbol of hate."
Local police have opened an investigation into the incident.
Yaakov Hagoel, Vice Chairman of the World Zionist Organization, called for a "harsh punishment" for the vandal responsible.
"The incitement and incidents of anti-Semitism against Jews don't stop on the holiest day of the year, Yom Kippur. Anti-Semitic criminals know exactly when to hit their targets."
"I thank the local police for taking this matter seriously, but that isn't enough. We need a heavy hand and deterrence through a harsh punishment, which won't allow those responsible the freedom to target Jews anywhere they want around the world."