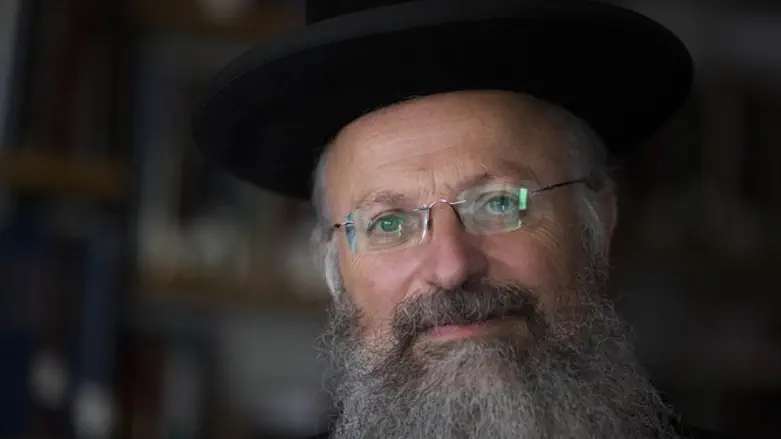 Rabbi Shmuel Eliyahu
Flash 90
National Union Chairman MK Betzalel Smotrich, responded this afternoon to the Supreme Court ruling against Rabbi Shmuel Eliyahu.
"In a more perfect world, Chief Justice Hayut and Supreme Court judges would have been summoned dozens of times for disciplinary action for political distortion of Israeli law," Smotrich wrote.
He said, "Again, in a ruling that is all about silencing dissent, a rabbi, a scholar, and a public leader is being prosecuted for his opinions. They're silencing and terrorizing the rabbis, they're silencing the Right, they silence anyone who threatens their hegemony. It won't be long before they silence elected officials who aren't on the correct political side," Smotrich said.
He added, "I send encouragement to Rabbi Shmuel Eliyahu for his courage, independence, truth, and uprightness. They will not set the boundaries of discourse for the rabbis of Israel. We will stand firm for rabbi's ability to express their halakhic positions independently, freely, and without fear."
The Supreme Court today ordered the Attorney General and State Attorney's Office to take disciplinary action against Tzfat Chief Rabbi Shmuel Eliyahu.
The ruling was given unanimously by Supreme Court Chief Justice Esther Hayut and Justices Yitzhak Amit and Alex Stein.
The petition against Rabbi Eliyahu was filed in 2016 by the Reform Center for Religion and State, the "Tag Meir" forum, the Coalition against Racism in Israel and the Association for Civil Rights.
"It seems, on the face of it, that some of his public statements, though not all of them, crossed the red line that separates what a city rabbi is allowed to say and publish in public and what he is not allowed to say and publish in public, being a city rabbi. These prohibited statements, their number, and the length of the timeline in which they were made, which which leads us to 2020 - indicates that the alternative disciplinary measure, which the respondents were satisfied with by a vote of 2-1, which included, as stated, clarification and warning talks, did not help or provide a proper response to the rabbi's conduct," Justice Stein wrote.
Rabbi Shmuel Eliyahu's office said in response to the ruling: "This is a political court. If it was a matter of their people's freedom of speech, there's no problem in depicting a guillotine or a prime minister hanging on a noose. In the case of rabbis or religious people, they'll twist the law to deny this fundamental right. We will not stop talking. We will not stop telling the truth. We have no confidence in this court."