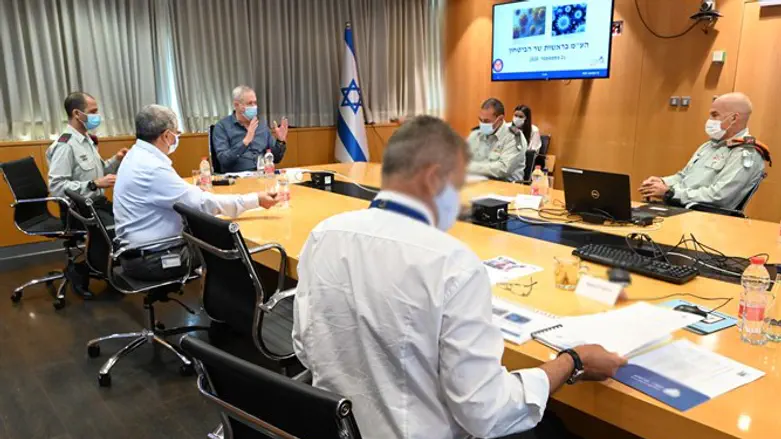 Gantz heads situation assessment
Ariel Hermoni/Defense Ministry
Defense Minister Benny Gantz today held a coronavirus situation assessment and said that IDF should immediately prepare to establish a field hospital in accordance with health system needs.
At the end of the medical corps' review, Gantz instructed to begin staff work required to establish a field hospital that would contain about 200 beds on the basis of allocating IDF doctors, nurses, and paramedics.
Preparations will take place in coordination with the Health Ministry and will be implemented "solely in accordance with urgent needs of the health system".
Defense professionals estimated that setting up a field hospital would be more efficient in terms of force management and training than disbursing medical personnel to different departments, as the coronavirus field hospital that would be opened would specialize in one type of patient.
For this purpose, forces will be prepared in the various units, and it will take several weeks.
Gantz also instructed the defense establishment to begin work on a lockdown exit strategy, as well as to prepare for further police reinforcement in the event of continued or expanded lockdown.
The situation assessment was attended by Defense Ministry Director Amir Eshel, Deputy Chief of Staff, Major General Eyal Zamir, Home Front Commander Major General Uri Gordin, and Chief Medical Officer Brigadier General Prof. Alon Glazberg.