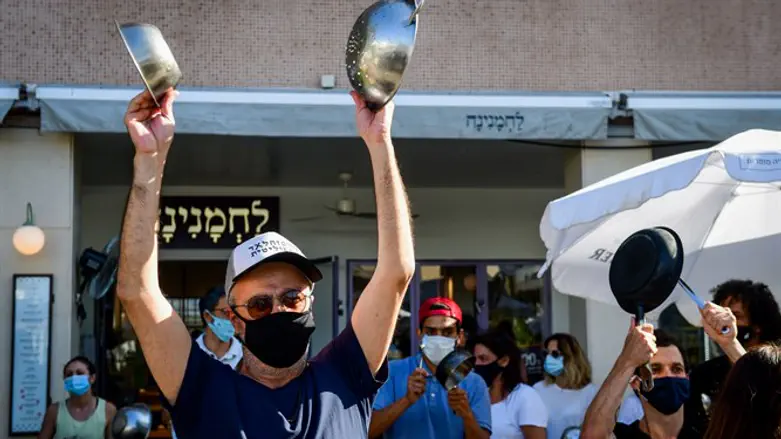 Anti-lockdown protest
Flash 90
A group of physicians and scientists opposing the upcoming holiday COVID-19 lockdown is planning a demonstration this evening in Kikar Habima in Tel Aviv at 8:00 PM.
Among organizers and participants include Shamir Medical Center at Asaf Harofe Hospital Coronavirus Ward Director Dr. Avi Mizrachi, Senior gynecologist Dr. Rotem Inbar, Tel Aviv University Immunology expert Professor Ariel Munitz, Pediatrician Dr. Efrat Shor, Tel Aviv University Microbiology and Immunobiology Department head Professor Udi Kidron, Medical and Strategic Advisor and Haredi Journalist Mr. Menachem Gshayer, Former Meuchedet head Professor Asher Alhiani, and Laniado Hospital Emergency Medicine Director Dr. Amir Shachar.
The announcement for the protest reads: "Doctors and scientists are demanding a halt to the closure, the decision of which to impose is based on zero transparent information to the public, biases and distortions of morbidity and mortality data, without any serious discussion, and ignoring the voices of many experts who have expressed dissent. Please come and share so we can prevent the catastrophic closure."
Yesterday, a letter of warning was sent to the Prime Minister, the Health Minister, and the Attorney General before a petition was submitted to the Supreme Court against the lockdown, as part of the requirement to exhaust procedures before submitting. The arguments in the petition to be filed will be based on this letter.
The letter was submitted by Attorneys Batya Zacks and Rita Price, and speaks on behalf of a number of medical, science, academia, law, journalism personages, and citizens.
The arguments set out in the letter seek to disprove, one by one, all justifications raised for imposing the closure, both regarding the extent of the morbidity of the virus, which health officials testified in the Knesset Coronavirus Committee is much less than publicized due to incorrect definitions, both regarding the number of critical and ventilated patients and the expected increase in their number; and regarding the threat of the collapse of the hospitals, which the writers claim is far from reality and is not necessarily related to the coronavirus disease, and also regarding mortality rates from the virus that they say are very low.
The Prime Minister's office and Health Ministry did not respond to a request to comment on the petition.